Hallstatt restaurants with view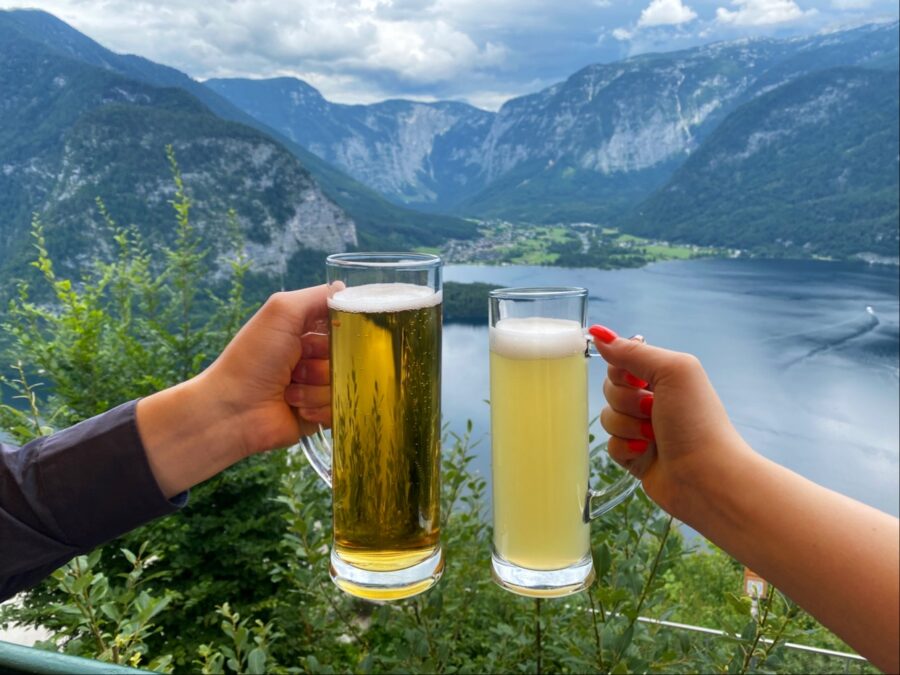 Hallstatt restaurants with view / Have you come to Hallstatt because of the beautiful sceneries and sights you can see here? If you want to really appreciate them, the best way to do it is to sit in restaurant with the view and just enjoy it.
Great meal is always an important part of any vacation. Discovering beautiful restaurants that have the atmosphere, tasteful food to offer and nice service. When you are at Hallstatt, the views are probably the thing you came for. So finding a restaurant, that can offer you the scenery of the lake and townscapes is a win. If you are not a fan of searching for restaurant and their reviews, here is a list of the best places at Hallstatt where you can eat.
1. Rudolfstrum Restaurant / Hallstatt restaurants with view
The best way to start this list is the restaurant with the highest location. Rudolfstrum is the only restaurant on the upper station of cable car above Hallstatt. You may visit this place on your way to the Skywalk or to the Salt mine. The view from their terrace is spectacular as it is from the Skywalk viewpoint. You can get some of the best regional food here, such as schnitzel, goulash or some kind of fish. Fresh fish from the lake is a common meal around Hallstatt.
Reviews
Good beer, amazing view

Stunning view from the terrace. Nice and fast service. Acceptable prices

Really nice place with outdoor and view to the mountains. It is so spectacular views. If you are at Hallstatt and want to find beautiful view during your lunch this is a perfect place.
Restaurant Rudolfsturm • Salzbergstrasse 1 • 4830 Hallstatt • Austria
Tel: +43 (0)664 882 80 101 • info@rudolfsturmhallstatt.at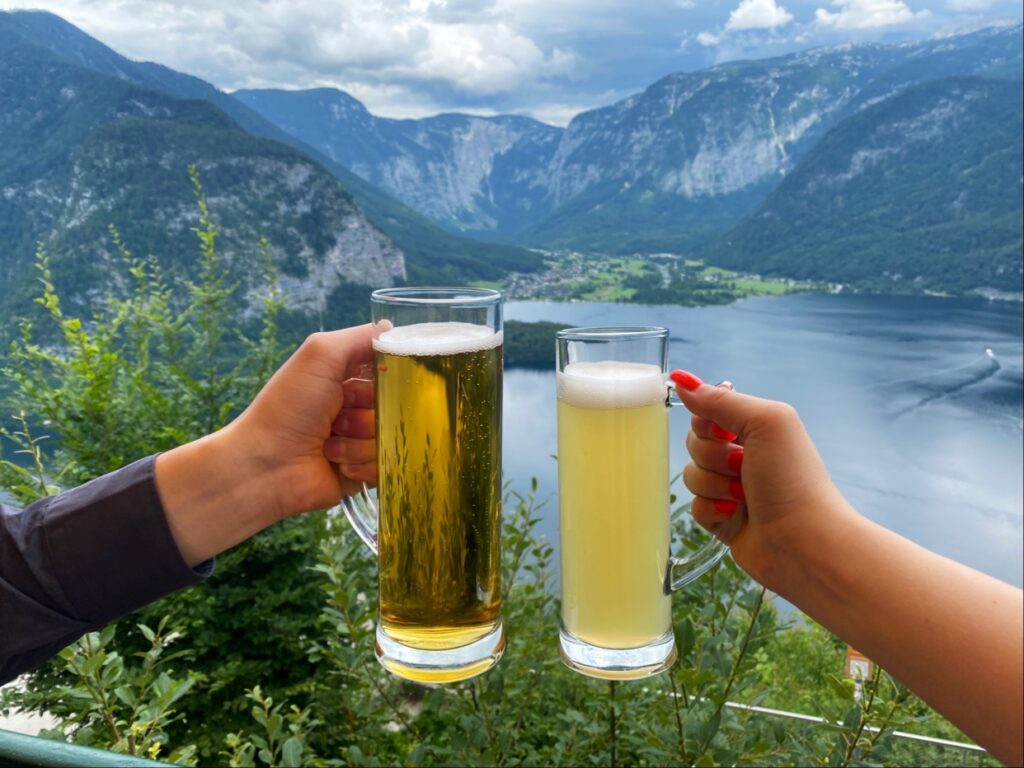 2. Zum Salzbaron / Hallstatt restaurants with view
Like most restaurants in Hallstatt, this one is also part of the hotel – called Seehotel Grüner Baum. It is located right in the center of an old town Hallstatt. They have an excellent view from the inside of the restaurant as well as from the outside. At summer you can sit on a terrace which is placed right on the surface of the lake. You can experience genuine summer vacation feeling here and enjoy a fresh meal. The best you can taste in Restaurant Zum Salzbaron is freshly caught fish from the lake. Also have in mind, that if you want to sit outside, you should make a reservation for yourself.
Reviews
If your are looking for the best place to enjoy a meal in Hallstatt look no further. The hotel has lakeside seating which is the best in Hallstatt…actually the "only" lakeside seating in the village. Highly recommend requesting a reservation in advance.

Are you looking for best price and great food quality with amazing view? You can't find better place in Hallstatt. The hotel has lakeside seating which is the best in Hallstatt

Very nice sitting on the terrace by the lake, delicious food, appropriately portioned. Friendly service.
Seehotel Grüner Baum • Marktplatz 104 • 4830 Hallstatt • Austria
Tel: +43 (0)6134 8263-0 ext.44 • contact@gruenerbaum.cc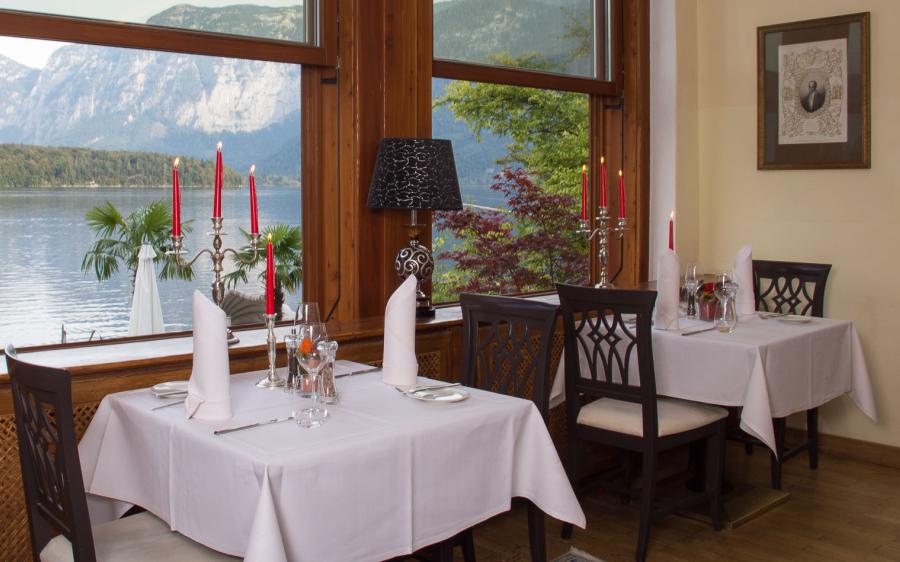 3. Bräugasthof am Hallstattersee
This restaurant is placed near the center of Hallstatt on the shore of the lake. In winter you can enjoy your meal in historic building with atmosphere and in summer you can sit on their garden under an old big tree with an amazing view on the lake. The restaurant will offer you Austrian specialties, but as the say, they have chefs from surrounding areas whom will "combine their regional culinary skills with typical dishes from this area but are also open to innovative ideas".
Reviews
Pleasant environment of a home pub with a classic selection of Austrian cuisine.

Very cozy restaurant with a sitting on outdoor garden with a view on the lake. Fast service and excellent food.

-We were met with good service, a very nice menu covering the best of Austrian cuisine (food, wine and beer). All in all, had a great lunch with an even better view. Really recommend this place to anyone passing through Hallstatt.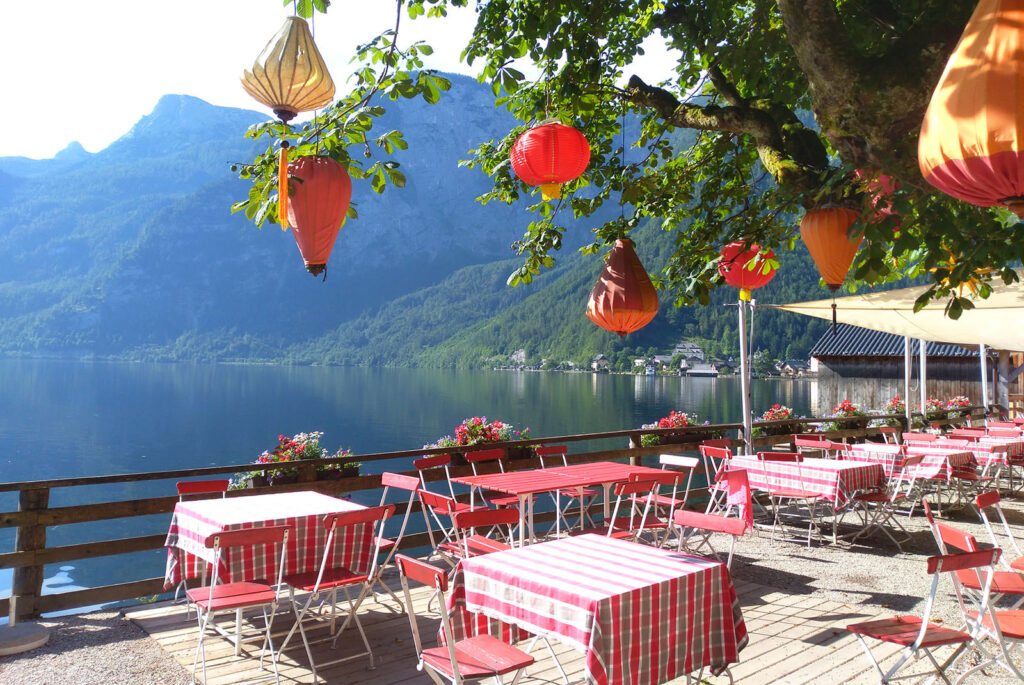 Bräugasthof in Hallstatt • Seestraße 120 • 4830 Hallstatt • Austria
Tel: +436134/8221 • info@brauhaus-lobisser.com
4. Seecafe Hallstatt
If you want to see the view of the lake from different perspective, you should visit Seecafe Hallstatt. Just outside the center of Hallstatt, therefore you can see the whole town from here. It is a cafe, but they also serves meal so you can enjoy your lunch and desserts with coffee. It has one of the greatest reviews and it is mostly about the friendly staff.
Reviews
This place is a vibe! If you want to get away from all the tourists but still have an amazing view of Hallstatt and the lake, this is the spot!

Beautiful location. The food was amazing, and so was coffee! We also really enjoyed the cheese strudel. The waiters are really nice and attentive!

Nice outdoor seating not only with coffee. Right by the lake. Nice service.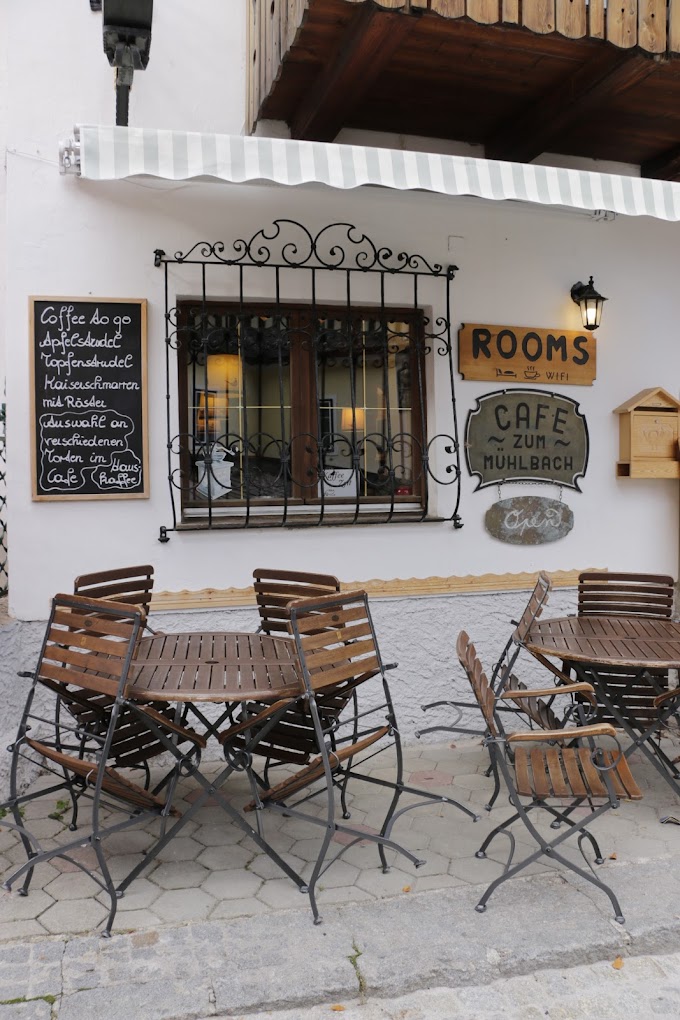 Seecafe Hallstatt • Seelände 173 • 4830 Hallstatt • Austria
Tel: +43 650 2322914
Other restaurants in Hallstatt
Because Hallstatt is mostly know of its viewpoints, there are lot of restaurants which offers you to experience it. It is a real tourist spot so there is many places to eat. Other than those mentioned above you can visit for example Restaurant am See at Gasthof Simony which is right next to the Zum Salzbaron restaurant or Cafe Bäckerei Konditorei Maislinger.
Outside the center is a restaurant Cafe Bachts Polreich. Most of these offer similar meals – regional food. And regional wine and beer is also a necessity for your lunch or dinner. If you are in Hallstatt are for a multiday vacation, don't be afraid you will have to eat at the same place. You have a lot of options in here.