Schutzhütte Koppental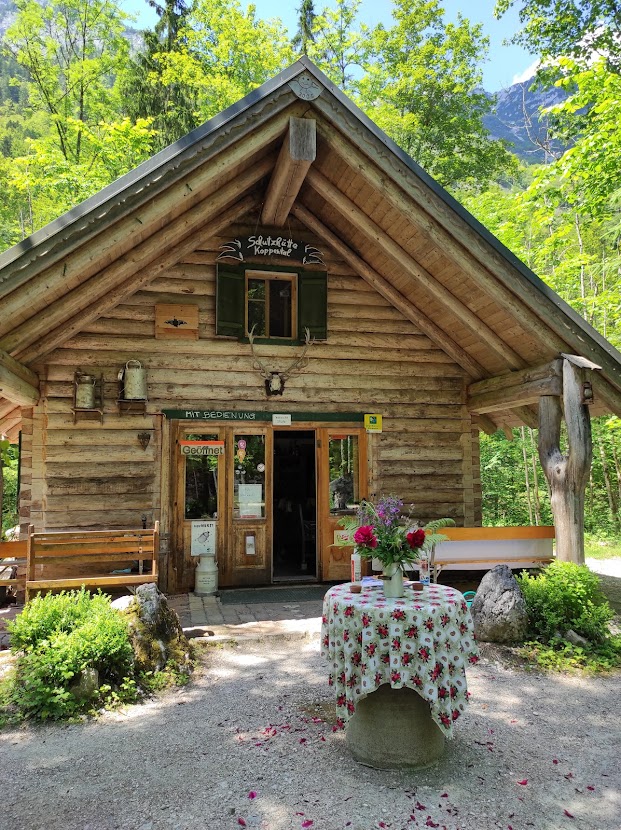 Schutzhütte Koppental is a small hut that offers refreshments and snacks for hikers and bikers in the Koppental valley. Here is some short information about it:
Location: The hut is located in the middle of the Koppental valley, between Obertraun and Bad Aussee. It is near the Koppenbrüller Cave and the Koppenwinkel. Web
Accessibility: The hut can be reached by hiking or biking along the Koppental trail, which follows the river and the railway line. The trail is about 13 kilometers long and takes about three hours to hike or one hour to bike. You can start from either Obertraun or Bad Aussee. The hut is open from May to October, from 10 am to 6 pm.
Offer: The hut offers regional and homemade products, such as bread, cheese, ham, cake and wine. Most of the ingredients come from local farms. You can also buy some souvenirs, such as pumpkin seeds, pumpkin oil and Styrian wines.
Attractions: The hut is near some attractions that you can visit along the way, such as:

Koppenbrüller Cave: This is a cave that is crossed by an underground stream. You can take a guided tour of the cave and see the stalactites, stalagmites and waterfalls.

Koppenwinkel: This is a nature reserve that has a wetland, a pond and a forest. You can see various plants and animals here.
Reviews of Schutzhütte Koppental
Overall rating: The hut has a rating of 4.4 out of 5 stars based on 50 reviews. Most of the reviewers praised the food, the service and the location of the hut. Some of the reviewers also mentioned the attractions nearby, such as the cave and the nature reserve.
A great place to stop for a snack and a drink on the way to or from the Koppenbrüllerhöhle. The food is simple but tasty and the portions are generous. The staff is friendly and helpful. The hut is cozy and has a nice view of the valley
We had a wonderful lunch here with homemade bread, cheese, ham and cake. Everything was fresh and delicious. The owner was very kind and attentive. The hut is located in a beautiful spot near the river and the forest.
This is a lovely hut with a great atmosphere and a friendly owner. The food is regional and homemade, such as pumpkin soup, bread and strudel. The prices are reasonable and the portions are big. The hut is also near some interesting places, such as Koppenbrüller Cave and the Koppenwinkel.
I hope this helps you learn more about Schutzhütte Koppental. Have fun! 😊 You can also read about our hike through Koppental valley in summer.