Ski Gosau
Ski resort of Gosau – In the state of Upper Austria, near Salzburg. There is an amazing ski resort that you should not miss! It´s one of the most beautiful places in the whole Salzburg region. It has wonderful natural scenery and magical views of the Dachstein Glacier. This paradise for ski lovers – "The Ski Resort of Gosau"!
Where is ski resort Gosau?
It is located in a mountain valley more than 10 kilometers long, at the foot of the Gosaukamm ridge. If you come here, you will stare at a beautiful landscape that will take your breath away! The Gosau ski resort is directly connected by cable car to the Hornspitz and Zwieselalm peaks.
It´s also a popular starting point for Dachstein West Ski Resort, as the Ski Resort of Gosau is one of the main parts of the Dachstein West ski area, so you can reach very easily all parts of this famous region.
It consists of three parts – Vordertal, Mittertal and Hintertal. The altitude of the complex varies from 900 meters to 1436 meters.
Slopes in the ski resort Gosau
This ski area is very popular among all skiers, especially families with children will come into their own, as there are mostly wide and well spread out slopes with easy or moderate to medium difficulty.
There are 45 km of well-groomed slopes (13km – blue, 30km – red, 2km – black) and 25 cable cars. As you see, Gosau has mostly red slopes, but there are also some gentle blue runs on the Hornspitz and in other parts of Dachstein West Ski area.
In the Ski Resort of Gosau the most popular are the red runs with sportier sections along the Zwieselalm gondola and the wide red run from Hornspitz to Russbach. There are also two black boulder slopes from the top of Törleck
The ski season has started here on 3.12.2022 and it ends on 10.4.2023. The ski area is opened every day from 9:00 to 16:00.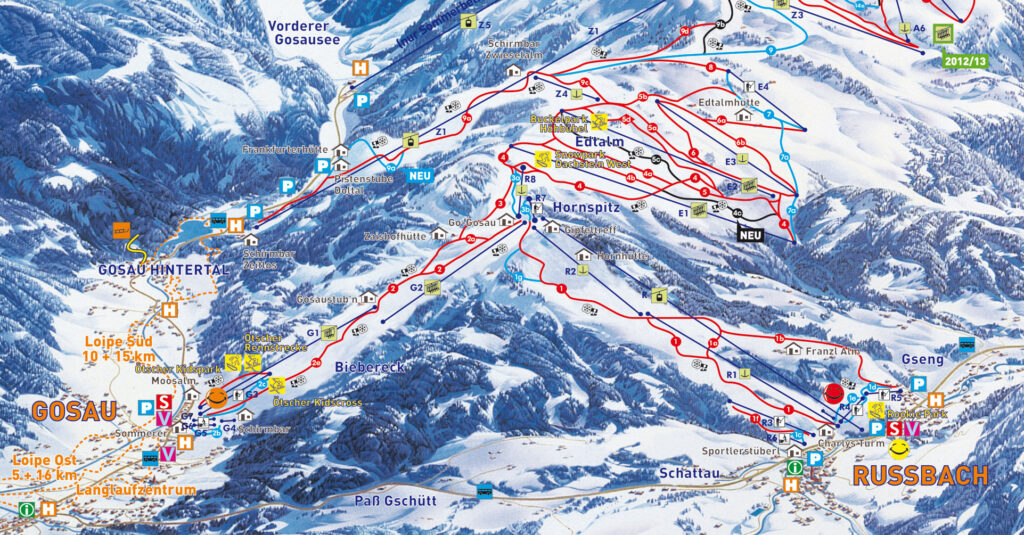 Entertainment for children in the ski resort
In the ski resort you can find lots of fun attractions and playgrounds for your kids, where they will have a great time!
It´s possible to say that the Gosau Ski Resort is an ultimate ski playground for young skiers, due to its child-orientated Brumsiland and Otscher Kidspark with many interesting attractions such as a snow carousel or an ice tower.
The youngest ones can ski in Brumsiland at the Hornspitzbahn cable car. Brumsi (the skiing bumblebee) and her friends will teach the kids how to ski in a fun environment… Children can enjoy a magic carpet, Brumsi's boardercross and a wild slalom flight amongst fairytale characters.
It was fun at the children's snow festival and Brumsi Cross ski race in Gosau!
Older children will probably prefer to spend their skiing time in the Otscher Kidspark, which is also a fun place to learn how to ski like a pro. This kids area also has a permanent race track and a timed slalom section.
Information for families and children
Children's area/designated area for children
carousel for kids
Wave track for children
Adventure course
magic carpet (conveyor belt)
children's lifts
ski school
Ski school for children
Childcare
playground/park
Mascots (Fuxi, Bruno, Ski Hummel Brumsi)
Ski school in Gosau
If you would like to learn to ski or just improve your skiing skills, then "The Gosauer Skischule" is the best idea in the Ski Resort of Gosau!
This ski school is at the valley station of the Hornspitzbahn, the favourite access to the Dachstein West ski region.
You will find qualified instructors here, whether you are a little kid or an adult skier, and you can choose between group lessons depending on each person´s ability or it´s possible to get private lessons as well.
Everyone can easily book his ski lessons online here –> Contact Ski School Gosau
Contact person: Rudolf Stricker
Address: Talstation Gosauer Hornspitzbahn
4824 Gosau 701, Österreich
Tel.: +43 6136 8559
Tel.: +43 664 1539109
E-Mail: ski@skigosau.at
Facebook: Skischule Gosau | Gosau | Facebook
Opening hours: In the winter months daily open from 9.00 a.m. to 4.00 p.m.
Reviews
Great ski school for kids, very careful supervision by many ski instructors. Stijn had a great hand with our son and the other young children in the Bambini course.

Kudos to Gosau Ski School! It was a great experience for our two boys, especially with the two ski instructors Tiss and Constantine!
Gosau ski resort ski pass
You will get the ski pass in the Gosau Ski Resort for the same price as in the Dachstein West Ski Resort. Then the passport is valid throughout all the area.
Ski pass price list
Day ski pass –> Day ski pass ski region Dachstein West
Family ski pass –> Family ski pass family ski region Dachstein West
Multiday ski pass –> Multiday ski pass ski region Dachstein West
Group ski passes –> Group ski passes ski region Dachstein West
Season ski pass –> Season ski pass ski region Dachstein West
Night skiing Gosau
Experience the thrill of night skiing in Gosau! On Fridays, the Ötscher lift and the Brumsi piste near the Hornspitz cable car are illuminated for night skiing. The Ötscher lift's lower section offers a 1 km long red slope, while the Brumsi piste is suitable for children and beginners. Starting at 18:30 and ending at 20:30, you can ski to your heart's content. When you're done, head to any Hornspitz umbrella bars to end the night. For those looking for more challenge, the Ötscher area also has a racing track and the "Ötscher Kids Park" with sharp turns and waves. Come experience the thrill of skiing at night in Gosau – Dachstein West!
Night ski show Gosau
Every Tuedsay from 20:00 to 21:00, more than 40 ski instructors put on an electrifying show for our guests and locals alike. From a flag parade and paragliding show to nostalgic rides in costumes and ski instructors with rocket backpacks, this event was an unforgettable experience. The grand finale? An awe-inspiring fireworks display that lit up the night sky. Join us for the ultimate winter wonderland experience! A spectacular night ski show of the Gosau ski school takes place at the Hornspitz-Express valley station.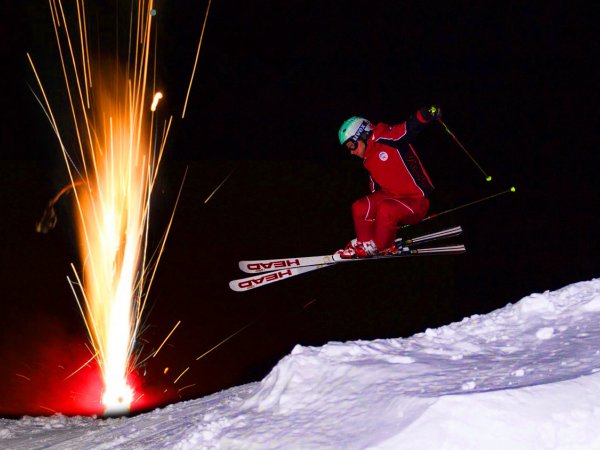 Apres-ski Gosau
Gosau is a traditional Upper Austrian mountain village. Therefore, don't expect après ski fun here. Instead, you can expect comfort and hospitality, and especially families with children will feel very comfortable here for this very reason.
Skiline – statistics of your runs
Experience winter sports like never before in the Ski Resort of Gosau with the free and convenient Skiline service. With the special kiosks located near the ticket offices, you can have your ski pass evaluated for free and get an overview of the number of kilometers you traveled, the total elevation gained, and a graphical representation of your ski day. Plus, you can have your data printed.
If you're a registered user, you can also use Skiline online to retrieve a complete evaluation of all your ski days during the ski season. Just enter your ski pass number and you can watch your performances, view videos, and even get an exact list of cable cars and lifts you have used, total elevation gain and mileage estimate. Take advantage of Skiline and make the most of your ski vacation in the Ski Resort of Gosau!
Restaurants
Take a break from your ski adventure and indulge in a delicious meal at one of the lovely restaurants in the ski resort. Enjoy good music and a range of tipples while you relax. For a great mountain experience, visit "Go-Gosau Alm" – a restaurant with a wide sunny terrace and a lively atmosphere later in the evening.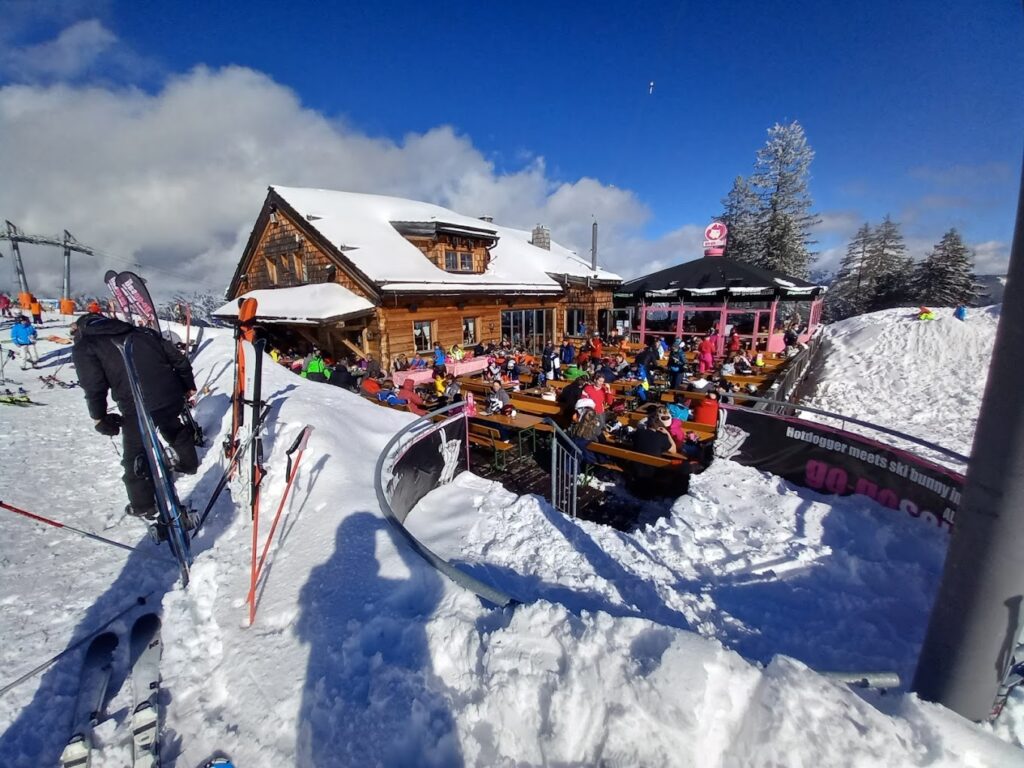 Or, head to "Hornspitz Schirmbar" near the Ötscher lift and enjoy a nice and lively atmosphere. Come indulge in the ski resort's cozy restaurants for a truly unforgettable experience.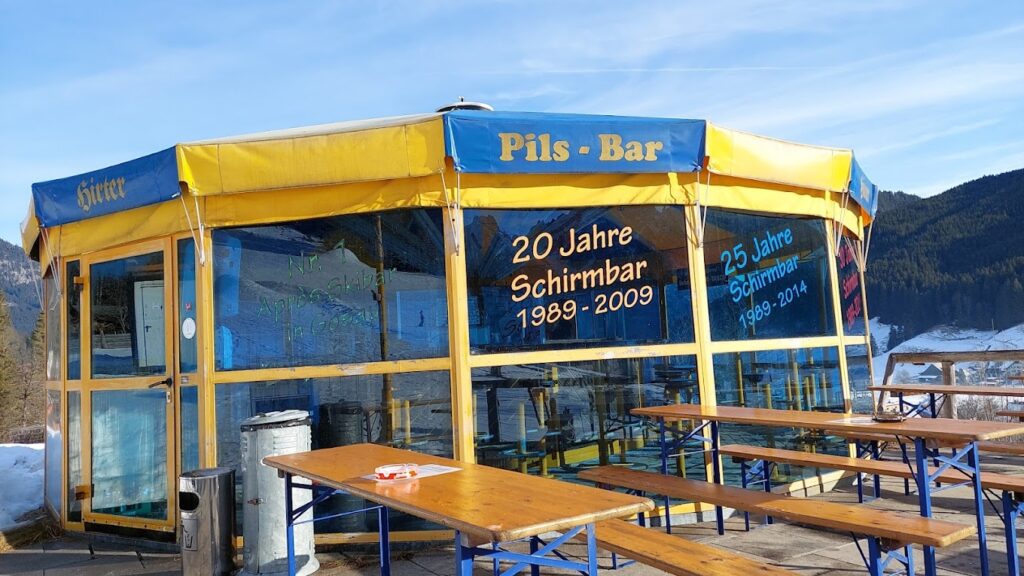 Ski bus Gosau
All skiers can also use free ski buses, that are included in the price of the ski pass. Ski buses can take you from your accommodation to a specific ski resort.
Other activities in ski resort Gosau
The Ski Resort of Gosau is not only about a downhill skiing! In addition to the well-groomed slopes, you can also enjoy nice cross-country trail trips or many toboggan runs. You can also play curling, horse-drawn carriage ride, etc. For snowboarders there is a very popular place in the Ski Resort of Gosau called "Playground Snowpark Gosau", which is located at the Hornspitzbahn cable car. This park is suitable especially for freestyle lovers. As you can see, also those who don´t ski will feel good and have a great time here!
Summary
Pack your winter gear and get ready to experience the beauty of the Ski Resort of Gosau! Not only is the resort perfect for skiers of all performance levels, but it is also ideal for lovers of many other winter sports. After all, Gosau was considered to be an excursion destination for the imperial family for many decades, so why not join them and explore this majestic winter paradise? So, don't miss out and join us in the Ski Resort of Gosau!