Gasthof Gosausee: A Hidden Gem in the Heart of Austria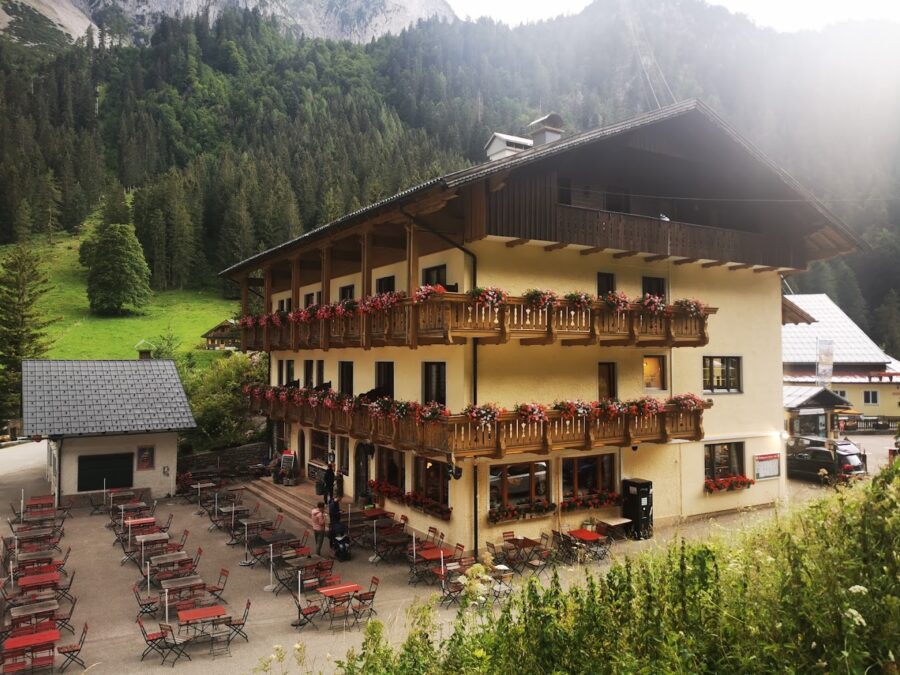 Gasthof Gosausee is a charming and cozy hotel and restaurant that offers a unique dining and lodging experience for locals and tourists alike. With its stunning views of the Gosausee lake and the surrounding mountains, Gasthof Gosausee is the perfect place to relax and unwind after a long day of exploring the beautiful Austrian countryside. Whether you're looking for a romantic getaway or a family-friendly vacation, Gasthaus Gosausee has something for everyone. In this article, we'll take a closer look at what makes Gasthaus Gosausee so special and why it should be on your list of must-visit places in Austria.
1. Introduction
Gasthaus Gosausee is a charming hotel and restaurant located on the shore of Lake Gosau in Austria. This family-run establishment has been welcoming guests for decades and is known for its warm hospitality and stunning views of the surrounding mountains.
Address
The address of Gasthof Gosausee is Gosauseestraße 152, 4824 Gosau, Austria
Address: Gosauseestraße 152, 4824 Gosau, Austria
Phone number: +43 6136 8514
Website: https://www.gasthof-gosausee.at/
2. Gasthof Gosausee hotel
Gasthof Gosausee is a traditional Austrian guesthouse that offers comfortable accommodation. The hotel offers panoramic views of the Dachstein Glacier and is situated at the foot of the Dachstein mountain range . The hotel has 28 rooms that are decorated in a rustic style and feature modern amenities such as free Wi-Fi and flat-screen TVs .
Some rooms come with a balcony and views to the lake and the Dachstein mountain range, while rooms without a balcony do not feature lake views .
All rooms are equipped with a shower and a water closet in the bathroom, towels, a seating area, a wardrobe, satellite TV and free WIFI. The completely refurbished comfort rooms are furnished with either Swiss stone pine or pine wood. The classic rooms have been partly renovated. Swiss stone pine wood has many positive effects on the human body. It guards against sleep disorders, stabilizes circulation, reduces heart rate and facilitates deep recovery of your body .
Due to the fact that Gasthaus Gosausee is a small family-run business, it might happen that not all rooms and/or dates are available online. If your preferred room is not available online, do not hesitate to send an inquiry via their online tool! They are looking forward to hearing from you 😊.
If you want to have a good view of the lake and the mountains, ask for a room with a balcony.
Price
The prices vary depending on the type of room and the time of year. Here are some examples of the prices:
Room without balcony "Economy": €55 – €65
Room with balcony "Gosausee": €73 – €85
Room without balcony "Gosaukamm": €62 – €71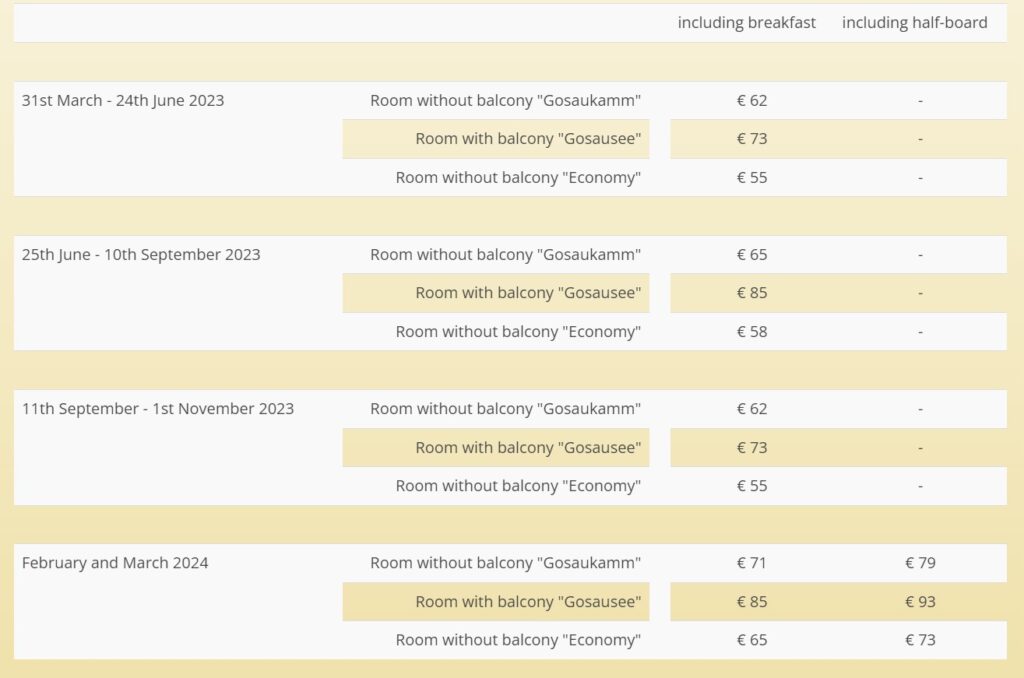 Please note that these prices are subject to change and may not be up-to-date. It is best to contact Gasthof Gosausee directly for the most accurate and current information.
Rooms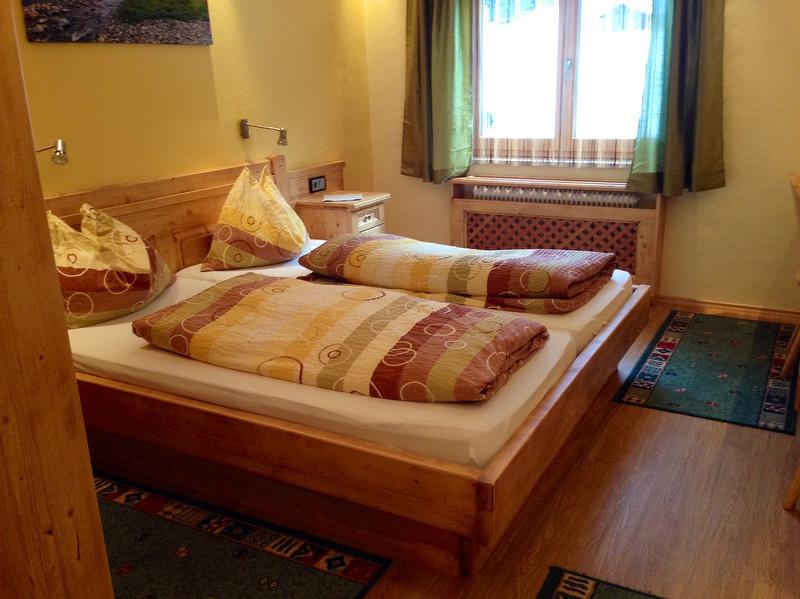 The quiet double rooms classic are located on the second and third floor and offer a view to the surrounding forest or the Gosaukamm mountain range. Please note that pets can only be accomodated upon prior request and additional charges. Non-smoking room.
Equipment: 1 bedroom, Double bed, Non smoking room, Satelite TV, Seating, TV, Towels available, Windows possible to open Location: Land side, Mountain facing Sanitary: Lavatory and shower and bathroom
Doubleroom Gosausee with balcony and lake-view

This bright, refurbished room type is located on the first and second floor of our house and offers a marvellous panoramic view to lake Gosausee and the Dachstein mountain range.
Triple room with balcony and lake-view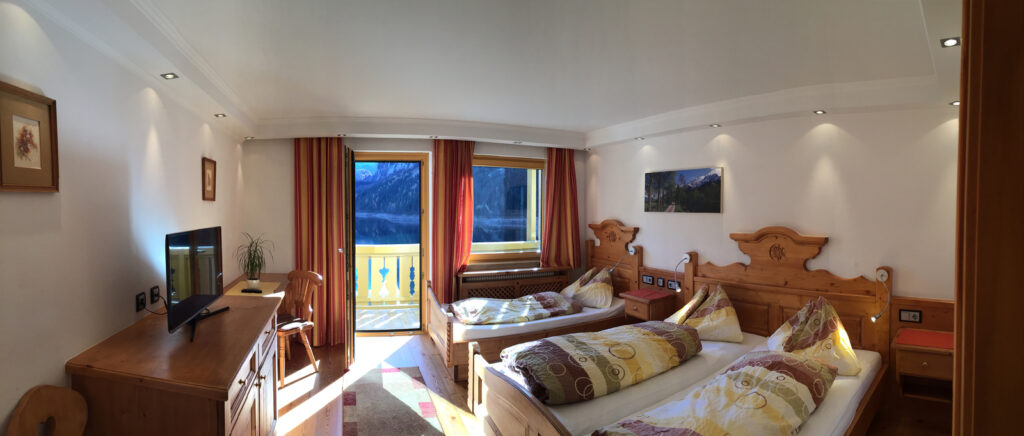 These bright, refurbished rooms are either located on the first or second floor and offer a marvellouy panoramic view of lake Gosausee and the Dachstein mountain range!
Multibedroom without balcony with a view to the forest
This room type is located either on the second or third floor of our house and offers a view to the surrounding forest. Please note that this room type does not offer lake-view. For 3-4 persons.
Reviews of the hotel
Gasthaus Gosausee has received many positive reviews from guests. On Booking.com, the hotel has an overall rating of 8.8 out of 10 based on 741 verified reviews . Guests have praised the hotel's location, cleanliness, and friendly staff.
On TripAdvisor, Guesthouse Gosausee (the same hotel) has an overall rating of 4 out of 5 based on 64 traveler reviews . Guests have praised the hotel's location, views, and breakfast.
Couples really like this location – they rated a stay for two people at 9.8 .
Here are some examples of a reviews
This beautiful place is magical! The staff is wonderful and welcoming, the rooms are delightful and lovely , the food is incredible! We especially love the views of the lake and mountains !this is one of the best places in Europe.
Beautiful place, unbeatable view from the room, which is (for Austria 🙂 very tastefully furnished, very nice and friendly staff, you can see that they care about it and care that people have a good time here.
3. Gasthof Gosausee restaurant
The hotel has an on-site restaurant that serves Austrian cuisine and fish specialties. In summer, guests can enjoy their stay at the beer garden on the terrace. A breakfast buffet is offered in the morning.
The restaurant is very popular, so it's best to make a reservation in advance
Restaurant offers a varied menu that is available in English, French/Italian (depending on the season), Hungarian and Czech languages. The menu comprises up to 70 different dishes which are complemented by a lot of different sundaes and cakes. We specialize in local fish and deer specialties. Their home-made chamois stew is particularly famous and is prepared according to an old family recipe. Additionally, we also offer a lot of typical Austrian dishes.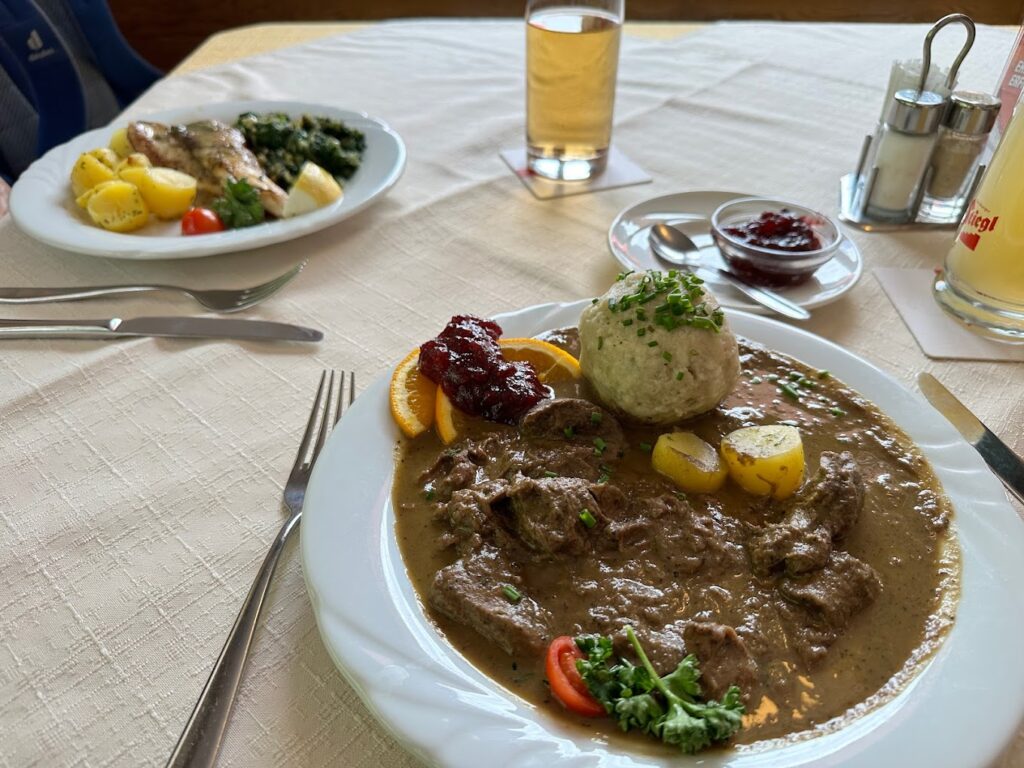 You can have a look at their menu.
Reviews of the Gasthof Gosausee restaurant
According to Tripadvisor, Gasthof Gosausee has an overall rating of 4 out of 5 based on 150 reviews. Here is an example of a review:
We had dinner here and it was really good. The food was delicious and the service was friendly. The restaurant is located in a beautiful area with a great view of the lake.
Beer for less than €5, classic price. A superbly located pub. Option to pay by card.
4. History of Gasthof Gosausee
Gasthaus Gosausee has a rich history that dates back to the 13th century when the St. Peter monastery in Salzburg first colonized the Gosau valley. The hotel was originally built as a guesthouse for travelers passing through the area and has been welcoming guests ever since.
Over the years, Gasthaus Gosausee has undergone several renovations and expansions to keep up with the changing times. The hotel's restaurant has also evolved to offer a wider range of dishes that cater to different tastes and preferences . Despite these changes, Gasthaus Gosausee has managed to maintain its traditional charm and warm hospitality that have made it a favorite among locals and tourists alike.
5. Activities around Gasthaus Gosausee
Gasthof Gosausee's website, there are many activities you can do around the area. Here are some of the top activities:
Hiking: The inn is the perfect starting point for hikes of all difficulty levels in Gosau.
Via Ferrata: For the climbers amongst our guests, the numerous fixed rope routes are a perfect holiday activity. The Laserer Alpin Klettersteig is a well-secured pleasure via ferrata with 420 climbing meters and runs directly over the water of the Vorderer Gosausee. The tour is very impressive and offers a constant view of the Dachstein. The entry to the via ferrata is on the east bank path of the Gosausee and can be reached from guesthouse in about 5-10 minutes. You can find more information about the Laserer Alpin Klettersteig on the website of Laserer Alpin OG
Cycling & Mountainbiking: The region offers a variety of cycling and mountain biking trails.
Diving: You can explore the underwater world of Gosausee with a diving instructor.
Gosausee water theme path: This path takes you around the lake and provides information about the flora and fauna of the area.
You can rent electric boats, pedal boats, and stand-up paddleboards.The rental fees for electric boats range from 23€ to 27€ per hour depending on the type of boat you choose. You can also rent pedal boats with or without a slide for 19€ to 21€ per hour. Stand-up paddleboards are also available for rent at 15€ per hour. You can check rental website.
6. Hiking to Adamekhütte, Simonyhütte or Hoher Dachstein
There are several places you can visit from Gasthaus Gosausee. Here is some information about Adamekhütte, Simonyhütte, and Hoher Dachstein:
Adamekhütte: You can reach Adamekhütte by hiking from Vorderer Gosausee. The hike is one of the most beautiful hut ascents in the Alps. The trail starts from Vorderer Gosausee and follows a wide road (no cars or bikes allowed) to Hinterer Gosausee. From there, you will hike up a steep slope to Adamekhütte .
Simonyhütte: There are several hiking trails around Gasthof Gosausee that lead to Simonyhütte. One of the most popular routes is around lake, which leads from Vorderer Gosausee to Hinterer Gosausee. From there, you can continue on the trail to Simonyhütte. The trail is about 14.5 km long and takes about 6 hours to complete. Another option is to take a cable car Gosaukamm to the top and hike from there. Trail is long about 21km.
Hoher Dachstein: You can climb Hoher Dachstein from Adamekhütte via Westgrat. The climb starts at Vorderer Gosausee and follows the trail to Adamekhütte. From there, you will hike up to the glacier and climb up the Westgrat.
There are many hiking trails around Gasthaus Gosausee that you can choose from.
7. Weather or webcam Gasthof Gosausee
Additionally, you can check daily weather forecast for Gosau or look at the webcam directly to Gosau lake..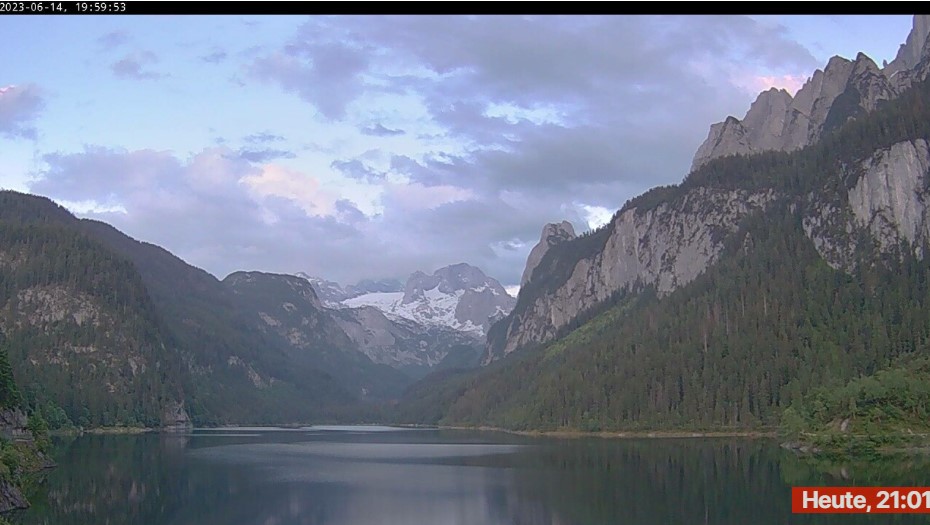 8. Conclusion
In conclusion, Gasthof Gosausee is a fantastic hotel that offers comfortable rooms at reasonable prices. The hotel's terrace and restaurant provide stunning views of the surrounding mountains, and the food is delicious. The reviews on TripAdvisor are overwhelmingly positive, which is a testament to the hotel's excellent service.
In addition to the hotel's amenities, Gasthof Gosausee has a rich history that dates back many years. The hotel is also located in an area that offers many outdoor activities such as hiking, biking, swimming, and via ferrata. If you're looking for adventure, you can take a trip to Adamekhütte or Simonyhütte or hike up Hoher Dachstein.
Overall, Gasthof Gosausee is an excellent choice for anyone looking for a relaxing vacation in a beautiful location. Whether you're interested in outdoor activities or just want to relax and enjoy the scenery, this hotel has something for everyone.