Therme Salzkammergut – time to relax your body and soul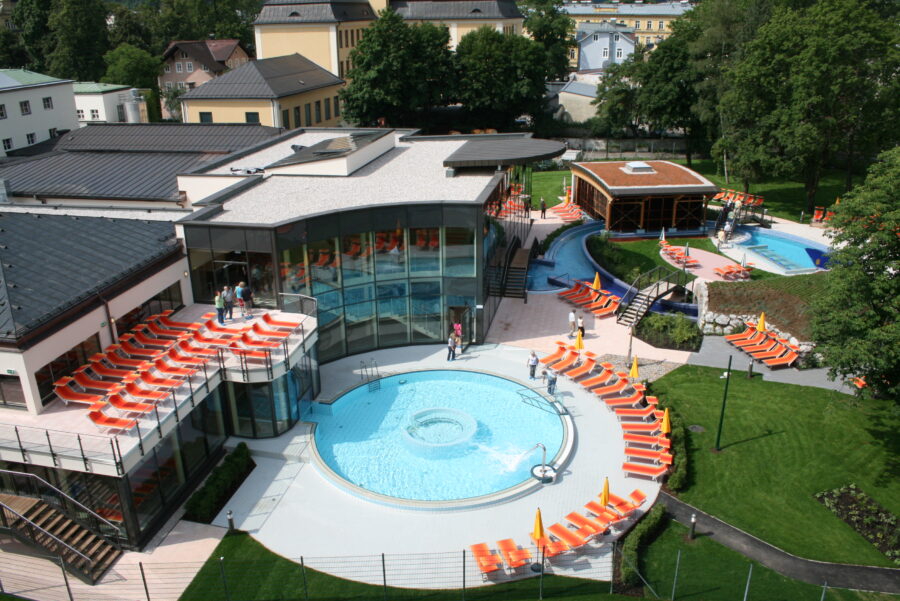 Have you had a pretty busy day of cycling, skiing, hiking in the mountains, long walks around Lake Hallstatt or do you just want to have some time only for yourself and relax a bit? Then you've come to the right place, because in this article you can choose from several therme resorts in Salzkammergut located in Upper Austria!
Therme usually combines the benefits of thermal baths, spa treatments and saunas in a luxurious setting and will help you to destress after a long day, soothe sore muscles or simply enjoy some alone time…
It´s wonderful and peaceful oasis to recharge, connect with yourself and prioritize your well-being. And all of this you can experience in the heart of the Salzkammergut!
Eurothermen Resort Bad Ischl – therme Salzkammergut
One of the most famous places for deceleration and relaxation in the entire Salzkammergut, surrounded by majestic mountains! You may enjoy wellness for your body and soul with a truly impressive panorama…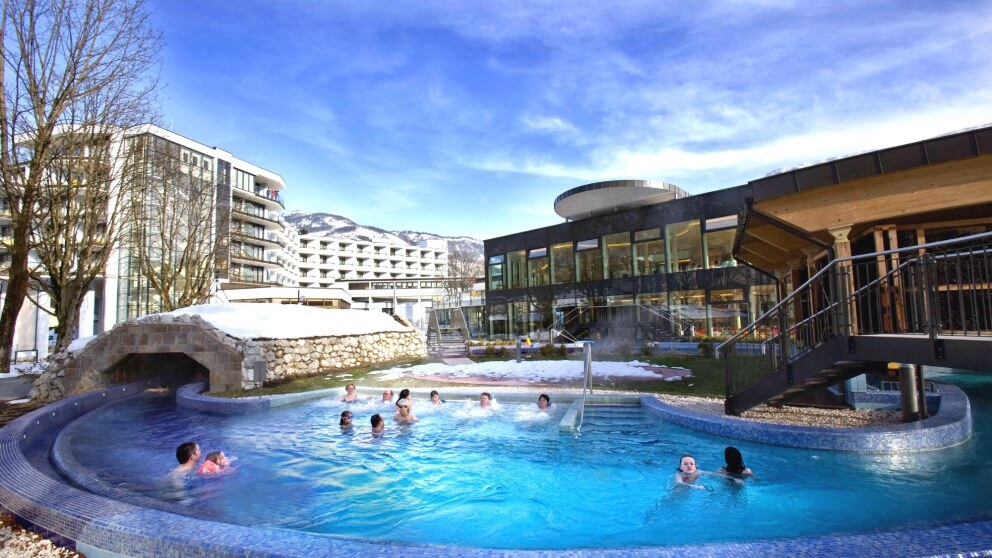 Thermal baths of Eurothermen Resort Bad Ischl, where everything revolves around the theme of "salt and brine", offer very imaginatively designed pools with underwater massage loungers, massage jets or a whirlpool with a pleasant water temperature of 36 °C.
But the highlight of the thermal baths is the unique water attraction "Lazy River", which is Austria's only outdoor river area! Everyone has to love it… The river winds its way slowly from one attraction to the next through the salt cave, the grad room and past the massage loungers! All of this will guarantee you a variety of great bathing pleasures.
The resort also includes a spectacularly conceived Relaxium, where you´ll be able to find many different types of sauna with gardens, cabins with infrared light, caves with brine inhalation or large relaxation areas… An additional attraction for you of the sauna world is the Alhambra Oriental relaxation ceremony consisting of four phases.
If you would like to enjoy relax for more days, you can simply stay in the 4*s Thermenhotel Royal, which is located in the same complex as Eurothermen Resort.
Address – Voglhuberstraße 10, 4820, Bad Ischl
Telephone – +43 6132 2040
E-mail – office.badischl@eurothermen.at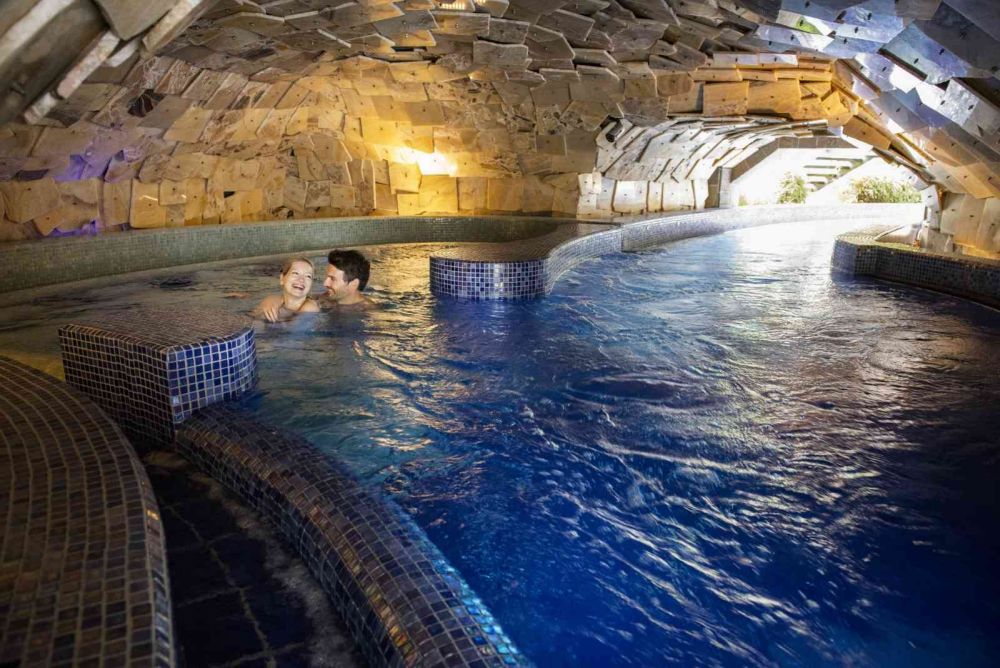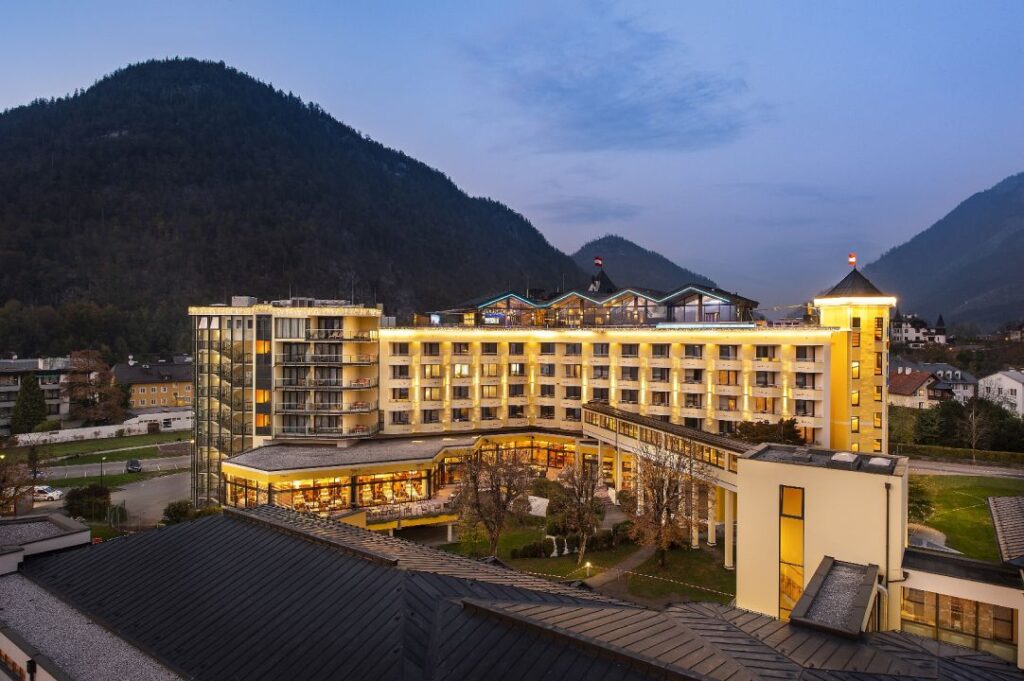 Aldiana Club Salzkammergut und Grimming Therme
The Grimming Therme wellness centre with an area of 8000 m² is located in the middle of the Alps with an breathtaking view of the Grimming massif and offers a wide range for wellness and relaxation.
So let´s give this therme a try and explore beyond the physical and mental benefits of relaxation, because wellness can be a wonderful way to connect with friends or loved ones as well. Whether you book a couples massage with your partner or you simply prefer enjoy a solo day of self-care, it's a great opportunity to bond with others and create lasting memories for sure.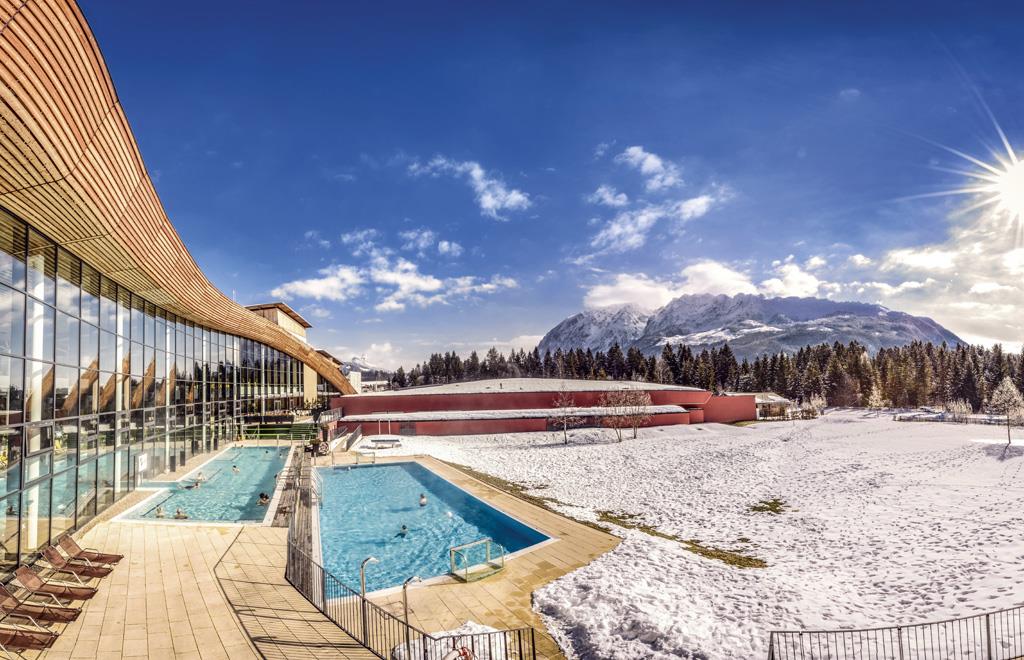 You may try 3 outdoor and 6 indoor saunas, but the highlight is a relaxation room with panoramic mountain views, which is literally brethtaking! Then you´ll find 11 wellness rooms designed in accordance with the 5 elements or sauna village with sauna bar as well. But don't overdo it at the bar with the alcohol.
Then the Grimming Therme resort also provides 3 indoor and 4 outdoor pools with, where you can enjoy a nice swim. Last but not least, you will find also a separate children´s section with giant water slide and children´s pool, where your kids may have so much fun!
Also this resort is directly connected to the hotel – The 4**** Aldiana Club Salzkammergut, where you should stay for more days, because it offers you the ideal complement to the GrimmingTherme's offerings.
Address – Neuhofen 183, 8983, Bad Mitterndorf
Telephone – +43 3623 21010
E-mail – info@grimming-therme.com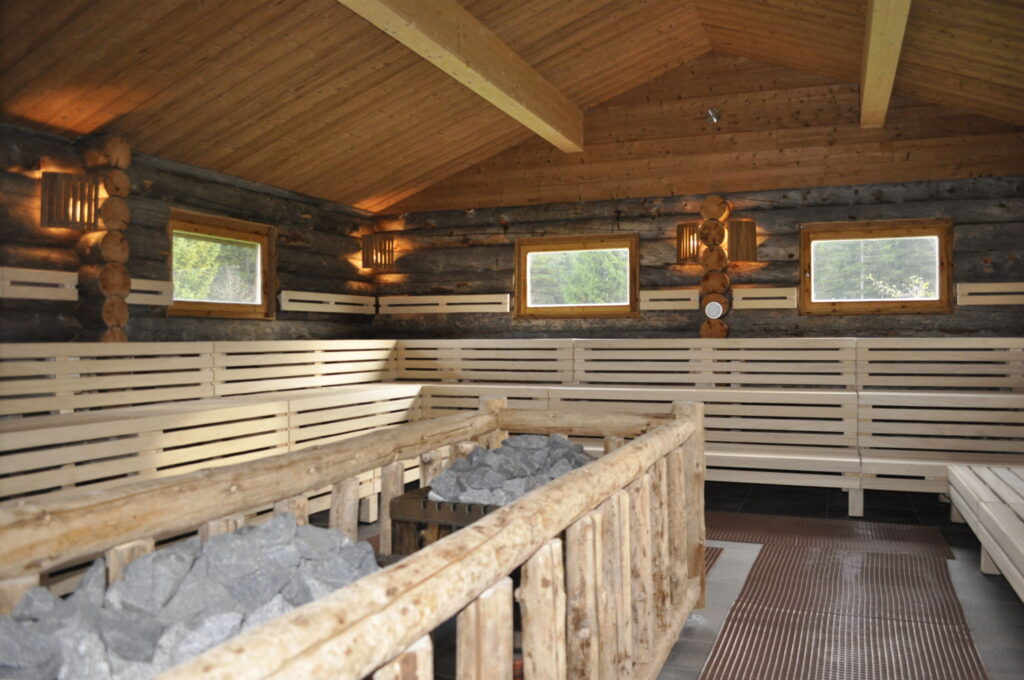 Narzissen Vital Resort – Therme Salzkammergut
This resort, which is located in Bad Aussee in the middle of the Dachstein and the Loser peaks, is combination of salt-water spa and a hotel.
You will enjoy a varied bathing experience including a salt cave, saunas and also medical wellness and treatments… Everything with a beautiful view of the mountains from the terrace!
So take some time to care for yourself and your own needs which may help you to feel much better.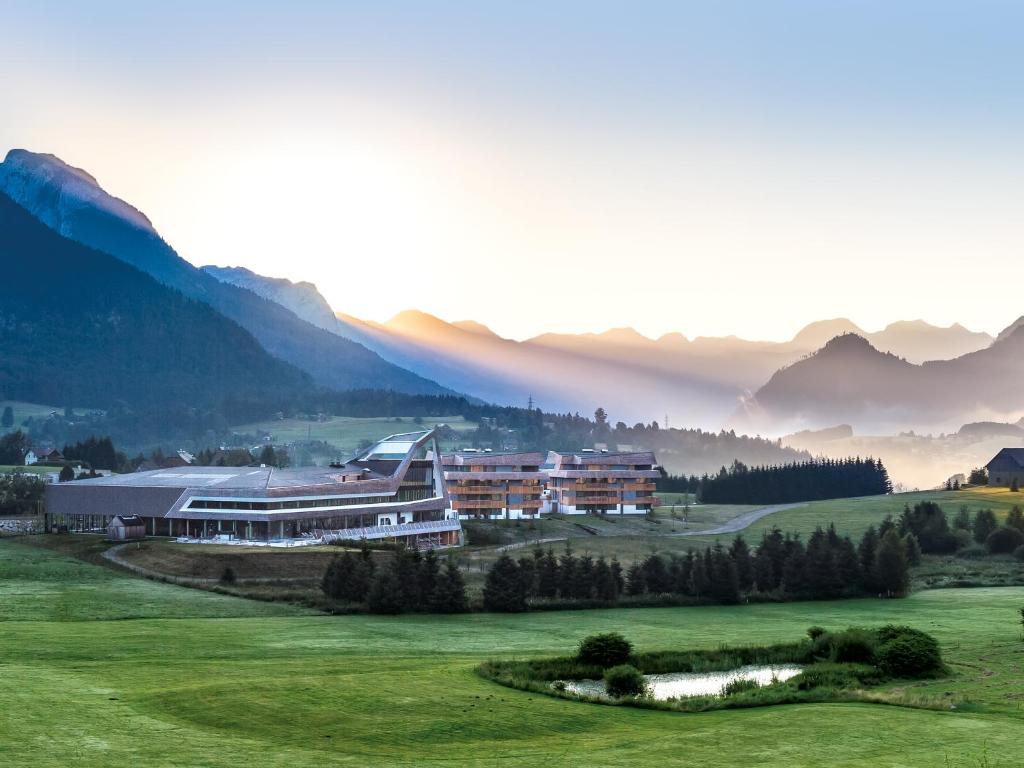 You probably didn´t know that the water in the pools of the Narzissen Vital Resort is the natural Aussee salt-water and it comes directly out of the ground and has many healing properties.
The sauna cabins and outdoor sauna pools offer you a spectacular view of the mountains across the Salzkammergut region, which is a feast for the eyes!
Firstly you´ll spend some quality time in one of the saunas, where you can focus only on yourself and your own well-being. After that the elegant and cozy relaxation rooms will invite you for some well-deserved relax…. Of course, there are also culinary treats waiting for you in the sauna area. You may enjoy them by the fireplace in the cosy lounge chair.
If you´ll spend more than €10.00 on food there, your sauna time will be extended by 30 minutes, for free.
Keep on your mind, that you will be requested not to wear clothing or swimwear throughout the entire sauna area. It´s just necessary to move through this zone naked, because it is more hygienic. You also need to remember that only persons aged 16 and above are allowed to enter this area.
POOLS
Outdoor salt-water pool – 32°C to 34°C, 2% to 3% Aussee salt-water with bubble beds, geysers and massage jets
Relax pool – 34°C to 36°C, Aussee spring water with bubble seats and massage jets
Narcissus pool – 32°C to 34°C, Aussee spring water with bubble beds, geysers and massage jets
"Salt Crystal" – consisting of salt-water grotto with salt-water lake; 34°C, 4% Aussee salt-water, salt inhalation steam bath and shower area
Multi-purpose pool with 3 lanes – as treatment / therapy / swimming pool in its own bathing hall; 28°C to 30°C, Aussee spring water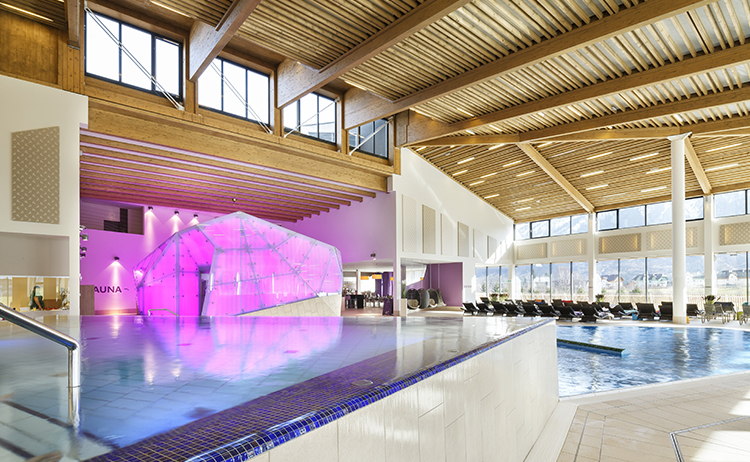 SAUNA RANGE
Narcissus steam room – 40°C, 90% humidity
Sweat box – 80°C, approx. 15 to 20% humidity
Cedar sauna – 70°C, approx. 20 to 30% humidity with automatic scent
Herbal sauna – 50 to 60°C, approx. 30% humidity
Panoramic sauna – 90°C, approx. 10-15% humidity
Infrared heat cabin – 35 ° C to 50 ° C
Salt-water outdoor pool – 32°C to 34°C, 2% to 3% Aussee salt-water with bubble beds and massage jets
Cold water outdoor pool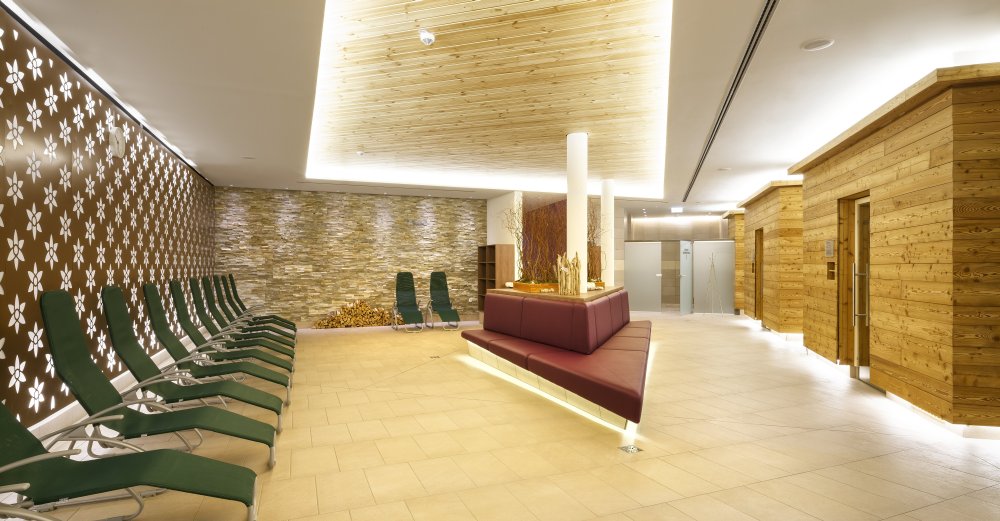 Address – Pötschenstraße 172, 8990, Bad Aussee/Reitern
Telephone – +43 3622 55300
E-mail – info@vitalresort.at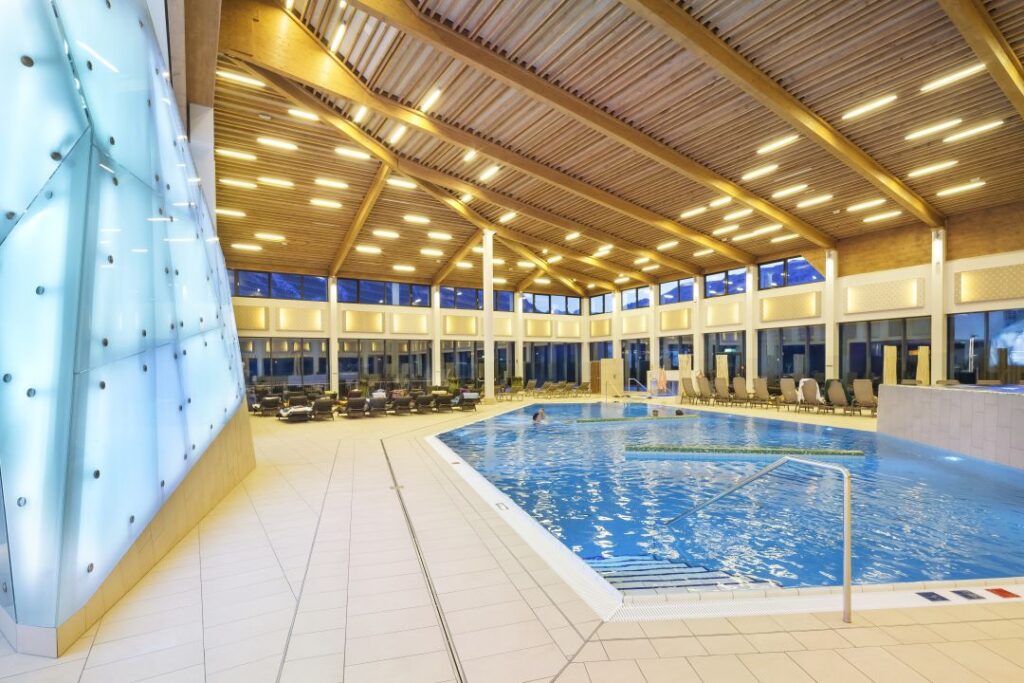 Wellness-Alm am Leopoldhof – therme Salzkammergut
In the Wellness-Alm you will enjoy a memorable wellness experience again with a view of the surrounding mountains…. So it´s such a perfect place for recharging your batteries!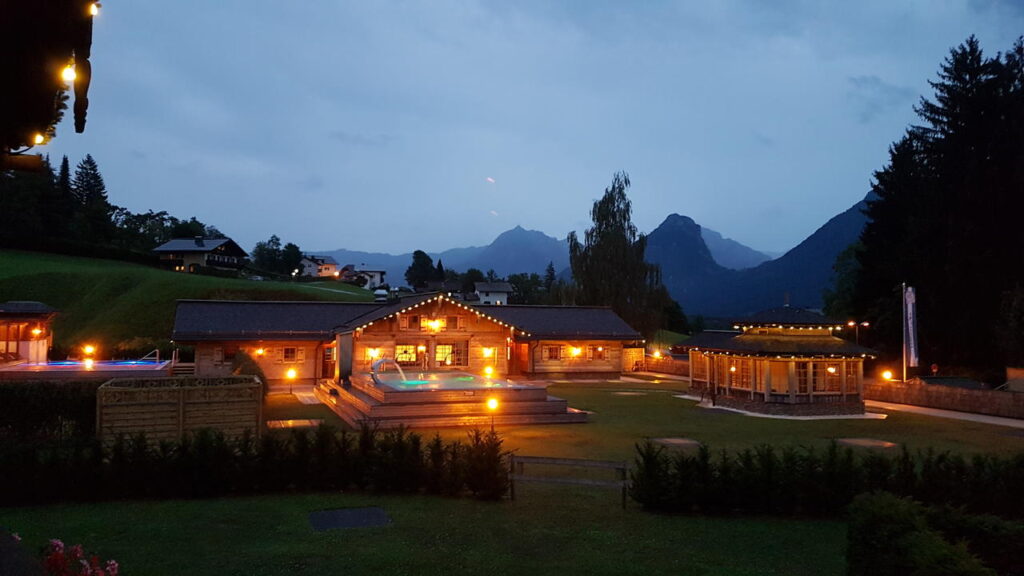 You may find a large selection of different pools (indoors/outdoors), a wonderful sauna area with various themed saunas, a brine steam bath, a plunge pool, an ice grotto and numerous relaxation rooms to relax and destress. You´ll have a wonderful time here for sure!
Wellness resort is connected to Leopoldhof hote, so you can easily reach it by the underground bathrobe connecting passage.
BATHING AREA
Alpine pool – 33°C (indoor)
Whirlpool – 36°C (indoor)
Outdoor pool – 34°C
Relax pool – 33°C (sauna area, indoor)
Cold water pool – 24°C (sauna area, outdoor)
Warm water pool – 34°C (outdoor)
Children´s pool – 36 °C (indoor)
Sport diving pool – 5,5 meters deep (indoor)
Beach – directly at lake Wolfgang (2000m2)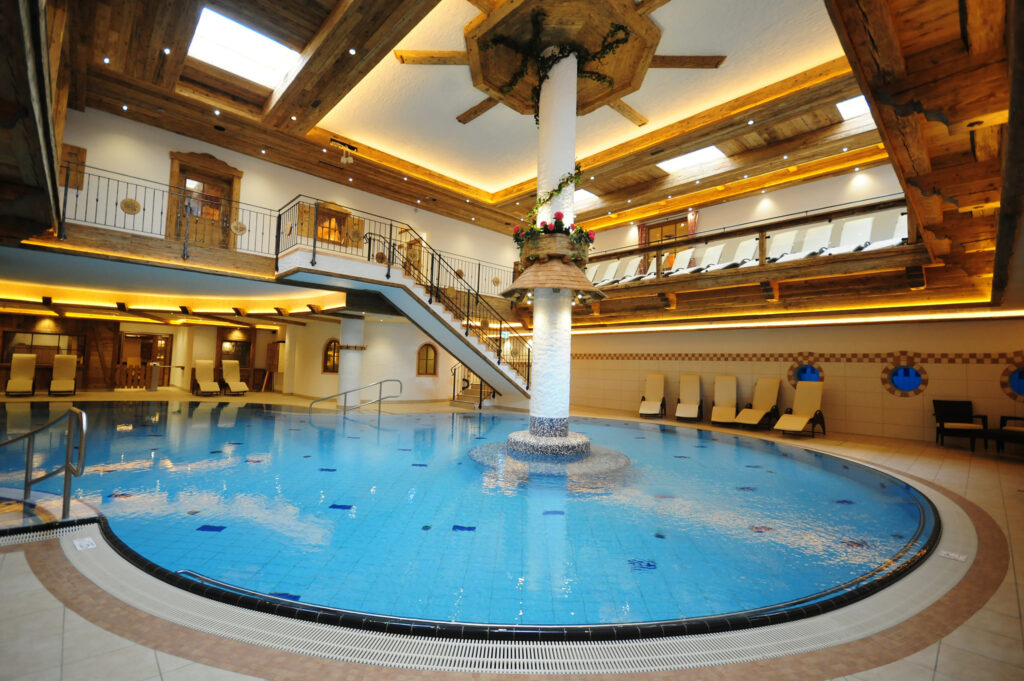 SAUNA AREA
Heustadl-infrared cabin– temperature 35-45 °C
Holzknecht stubn'n-sauna – temperature 80-105 °C
Solestollen-sauna – temperature 50-65 °C
Zirben-sauna – temperature 45-max. 60°C
Alm-sauna – temperature: 80-105 °C
Herbal sauna – temperature 65-max. 75°C
Children-sauna – temperature 45-max. 60°C
Aroma-steam bath – temperature 47°C
Ice-grotte – temperature max. -2 to +2 °C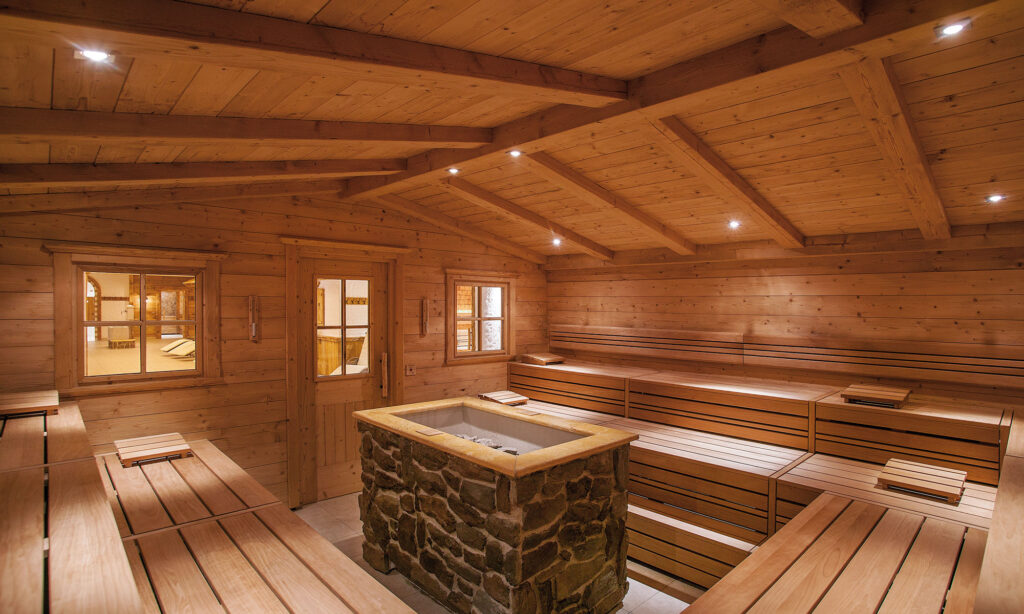 Children in the Wellness-Alm am Leopoldhof
Wellness-Alm am Leopoldhof is ready even for the little ones!
So if you have your children with you, no worries… In the pools children are only allowed to swim accompanied by an adult. But you will find children´s paradise constructed only for small kids here as well. Your kids may have fun while watching movies in children´s cinema, relaxing in the children´s sauna like the grown-ups or climbing the wall "Klettermaxis". Your children can visit also the really cool – indoor "Rombox" play corner and you can have some splashing fun in the toddler pool (36°C) with the smallest kids…
Address – Ried 8 St. Wolfgang, 5360 Ried, Autriche
Telephone – +43 6138 20420
E-mail – office@wellness-alm.at
Opening hours – daily 10:00 – 21:00
A few words at the end
Relaxing in a spa or therme is truly a wonderful experience, because it allows you to unwind and forget about the stresses of everyday life. The warm and soothing atmosphere, the calming music, and the luxurious surroundings all work together to create a sense of peace and tranquility, which is sometimes more that needed.
In Salzkammergut you can also visit other therme, as the offer is really wide in this area. If you can and have enough time the Spa Heiltherme Bad Vigaun or the G'sund & Natur Hotel Die Wasnerin are also definitely worth a try… But you should see for yourself, because the experience is not so easy to describe in words
This kind of relaxation doesn´t have only physical benefits, but it will help you mentally and emotionally as well. Wellness may help you to feel more centered and balanced and can even improve your overall outlook on life.
So if you are looking for a way to slow down and recharge, then visiting a therme is definitely worth considering. It's a great chance to treat yourself with a little bit of luxury… And for sure you´ll come away feeling refreshed, revitalized and ready to take on whatever life has in store for you!