Hallstatt Bone House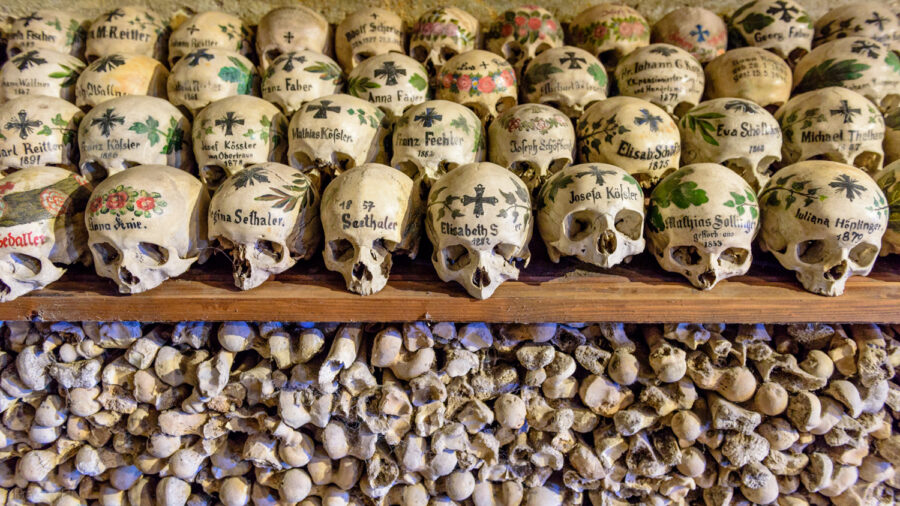 The Hallstatt Bone House, also known as the "Hallstatt Ossuary", which is located in St. Michael's Chapel in the historal centre of the World Heritage city of Hallstatt, belongs to the most visited places in this beautiful area. It´s famous for its extraordinary collection of human skulls and bones.
So if you are planning to enjoy your holiday in the Dachstein Salzkammergut region, then don´t forget to save some time for visiting this atypical sight. It´s definitely worth to see!
Hallstatt Bone House – description
This house full of skulls has been in existence since the 12th century! It's been a pretty while, hasn't it?
Today, the Bone House contains over 1,200 skulls and thousands of other bones, many of which are elaborately decorated and hand-painted with floral designs, names, and dates. By the different types of paintings on the skulls, you can get to know the exact period the skull comes from, as each historical period is characterized by different paintings.
Taking pictures inside is not allowed due to honor this place.
You probably didn´t know, that the latest paintings come from the beginning of the 19th century. You may recognize them by their thin ivy branches on either of the skull, Latin script and narrow crosses as well. But few of them were painted even in the 20th century!
It will certainly be an interesting activity for you to search for the skulls in question according to the paintings!
The whole collection is open for everybody to visit, so you can view the skulls and bones up close and learn many interesting things about the history and customs of the town.
History of the Hallstatt Bone House
You may be interested in finding out some intereting facts about this special area, so let´s take a quick trip through history together!
The Hallstatt Bone House was created because the graveyard in Hallstatt was very small and it was not possible to enlarge it. Moreover, cremation was forbidden at that time, but I think, that this fact is not new for you. So they solved the problem by re-opening a graves in 10-15 years after a burial and they removed the skulls and long bones. Then the skeletons were "cleaned" and bleached in the sun. After that they placed the skulls and bones in the charnel house.
The tradition of decorative and symbolic painting began in 1720. At the same time started also writing the names and dates of birth and deaths on the skulls, so they could be remembered even if they no longer had a grave.
The existing grave, from which the skeleton was taken away, was reused for a new burial.
Location of the Hallstatt Bone House
You can find this unusual bone house next to the catholic parish church in the small and carefully maintained cemetery, near the centre of Hallstatt city. As the home of the "Hallstatt Ossuary", as you probably already know, is considered the St. Michael's Chapel.
I´m pretty sure, that you will find this site very easily, because you may know the church from the "world-famous postcard view" of Hallstatt.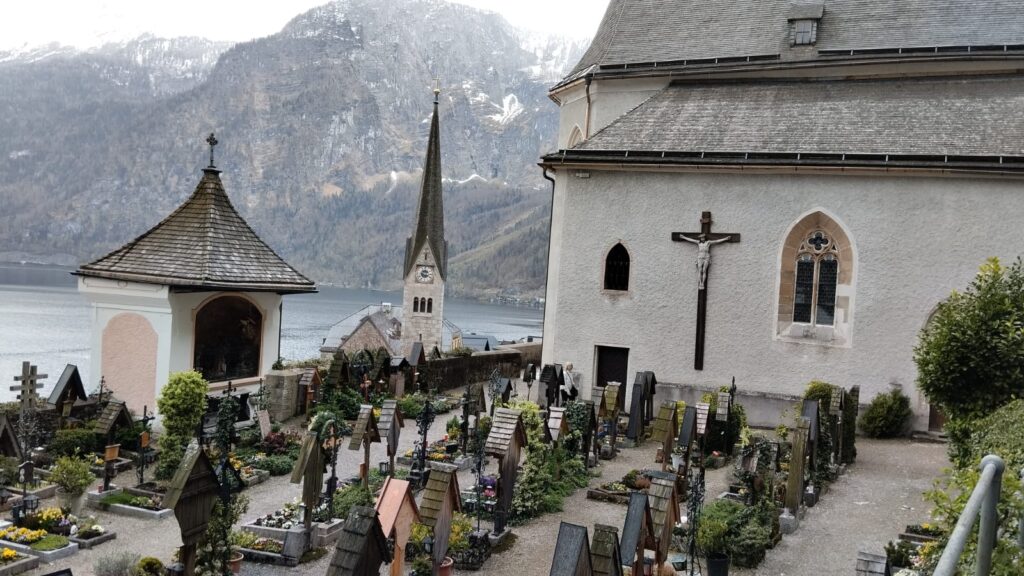 During your walking time to this site, you may enjoy a wonderful view on Lake Hallstatt, beautiful forested mountains or admire the charming 19th-century houses…
Address: Kirchenweg 40, 4830 Hallstatt
Contact person: Mrs Helga Sejka
Telephone: +43 6134 8279
E-mail: pfarre.hallstatt@dioezese-linz.at
Opening hours
1.5.2023 – 30.9.2023 –> Monday – Sunday: 10:00 – 18:00
1.10.2023 – 31.10.2023 –> Monday – Sunday: 10:00 – 17:00
Be aware, that the Bone House may be closed due to bad weather.
Price list
| | |
| --- | --- |
| Adults | € 2,00 |
| Children (until 15 years) | € 0,50 |
Parking near the Hallstatt Bone House
If you are coming by car, then you may leave your car in one of the four paid parking areas –> P1,P2,P3,P4.
| | |
| --- | --- |
| 1 hour | € 4,00 |
| 2 hours | € 7,00 |
| 3-4 hours | € 9,00 |
| 5-6 hours | € 9,50 |
| 7-12 hours | € 10,00 |
| from the 13th hour (daily tariff) | € 15,00 |
Then you will reach the Bone House easily by walk, because all of the parking lots in Hallstatt are not far away from the site. And you will do something good for your health while breathing the fresh mountain air!
Interesting facts about the Hallstatt Bone House
Did you know, that the latest addition to the Hallstatt Bone House was in 1995? It was a skeleton of a woman who passed away in 1983. This lady stated her personal wish to have her skull and bones placed in there. You can recognize it by a skull with the gold tooth.
So if you are considering having your skeleton in this house, then don´t forget to state this wish in your final will. They will remove the skull from the grave ten years after your burial. Then they will clean it and paint it and finally place it to the Bone House!
It's definitely a good way how to be famous after your death, as visitors from all over the world will come to see you (or your painted skull)… 🙂
Other attractions nearby
When you finish with the bone house then you can continue to other parts of Hallstatt and see the most of it. Then we are giving you some choices what else too see around:
Welterbemuseum Hallstatt – a museum that holds the cultural and historical treasures of the Hallstatt-Dachstein/Salzkammergut region of Austria
Hallstatt market square beautiful example of traditional Austrian architecture. With colorful buildings that date back to the 16th century.
Skywalk Hallstatt – you ready to overlook the Lake of Hallstatt from this unique view point?
Lake Hallstatt – walk through Hallstatt around the beautiful lake with views of the surrounding mountains or take a boat ride right on the lake, the swans will come right to you.