Strandbad Obertraun – beach, swimming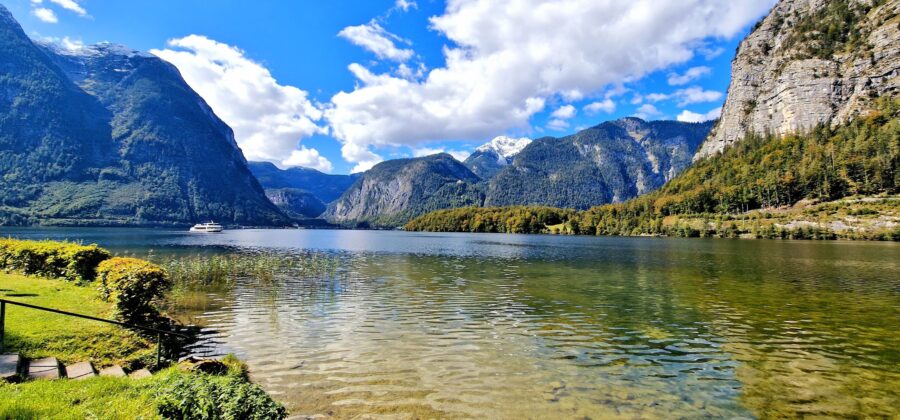 Experience an unforgettable day out at the stunning beach – Strandbad in Obertraun! With its large beach, buffet, sanitary facilities, changing cabins, beach volleyball court, skatepark, climbing wall, children's playground, barbecue areas, water slide, and large parking lot – all of which are accessible for free – the Obertraun Strandbad is one of the most beautiful and well-kept swimming areas on Lake Hallstatt. Enjoy a day of relaxation and fun in the sun at this amazing location!
How to get to Strandbad Obertraun
The beach is accessible in several different ways. One of the most convenient ways to get there is by car. There is a parking lot right next to the beach. If you're coming from Koppental valley from your hike, if you're biking around the lake. Then you can just follow the signs and find your way there. Alternatively, there is option to come by train. Take the train to Obertraun Dachsteinhöhlen Station. Then walk to the beach, which is only a 5-10 min walk away.
Pictures speak more than words
As you can see from pictures it is perfect spot for a perfect day at the Lake Hallstatt or just rest on your way around lake on bikes. Our children just love it there. We have been here several times – in spring, summer or even winter.
As you can see from pictures Strandbad Obertraun is the perfect spot for a day of relaxation and fun in the sun. Whether you're looking for a peaceful day of swimming and sunbathing, or an active day of beach volleyball, skateboarding, riding a scooter and climbing, you'll find everything you need here.
The large beach is perfect for enjoying a picnic or just relaxing on a lounge chair. And the kids will love the playground, skatepark, and water slide. No matter the time of year, Strandbad Obertraun is a perfect place to visit. In the summer, you can enjoy the warm sunshine and a dip in the lake. In the winter, you can take a leisurely stroll on the beach and take in the breathtaking views.
Our family has enjoyed many wonderful days out at Strandbad Obertraun. Whether it's a day of swimming and sunbathing, taking rest after challenging hike or just a leisurely bike ride around the lake, we always have a memorable experience.
Refreshments on the beach – Strandbad Obertraun
There are couple places you can go for refreshment
1. Seecafe Obertraun
Directly at the beach – the perfect combination of a coffee house and restaurant. Located at the Strandbad Obertraun and overlooking Lake Hallstatt, you'll feel like you're on holiday and get the chance to take in the stunning views while you relax.
In the summer months, the cafe offers a wide selection of hot and cold drinks, delicious snacks and light meals. The cafe is usually closed in the winter months and reopens in May.
So, if you're looking for a place to eat, drink and take in the views of Lake Hallstatt, then why not visit Seecafe Obertraun? With a wide range of drinks and snacks, plus a terrace with a view of the lake, you'll feel like you're on holiday with every visit.
2. Pizzeria Kegelbahn
We arrived in Obertraun around 17:00, by the time we were ready to head out for a walk, most places were closed in Hallstatt (which is 10mins by car) and we could not find anywhere to eat! This was the only place that was open until 22:00 and we were so lucky! You can tell everyone that wants to eat after 19:00, goes to this restaurant. They have a variety of food. We had a margarita pizza which is not freshly made and that's perfectly fine, spaghetti with vegetables and schnitzel which was my least favorite (based on my taste), tomato salad which was yummy and our favorite garlic soup which is a must if you visit this place! Drinks were a bit pricey so we skipped that and our total with the 4 dishes came around to 40€. I would visit this place again if I came back to this small beautiful village JUST for the garlic soup!
Menu had a good selection of options. Staff were very friendly and service was quick. Ate there 2 nights in a row. Favourite options was the lasagna and garlic soup
What's more then beach and mountains
If you're looking for a great day out in beautiful surroundings, Strandbad Obertraun is the place for you. With its stunning beach, buffet, sanitary facilities, changing cabins, beach volleyball court, skatepark, climbing wall, children's playground, and barbecue areas, you'll be able to experience an unforgettable day out in the sun.
If you come to this beach once, you'll want to come back again and again. Whether you're looking for a full day of fun and relaxation, a break from a strenuous hike, or a stop off point during your mountain biking tour around the lake, you are sure to enjoy the tranquil beauty of this delightful beach. Spend some time here and you'll be sure to want to return. Enjoy your stay!
See our wonderful tips for swimming – 1/ right on the other side from  Obertraun village, there is great place for swiiming right in the World Heritage town Hallstatt – bathing island Hallstatt. 2/ north side of the lake Hallstatt there is great beach area – Strandbad Untersee – Bad Goisern