Hallstatt spring – Witness the Magic of Nature!
Hallstatt in the spring. If you are a nature admirer, you must love the time of the spring, when everything is awakening after a winter sleep. The flowers are blooming, trees are getting green and all kinds of animals are getting awake. Mountains with the lake and river at Hallstatt are truly magical in this time of a year.
If you are planning a trip to Hallstatt and you are trying to figure out when to go, be prepared to get on the road really soon. Spring is one of the nicest times of a year in the Salzgammergut area. Not only you can experience all the indoor activities such as Salt mine tour or museums, you can also spend your time outside. There are lot of hiking trails, which will be great to experience or you can take a bike and set out. Snow from the mountains will be melting and the rivers will be full of water. There are also amazing waterfalls around Hallstatt, that you should definitely visit in spring.
Weather in Hallstatt at spring
An average temperature in Hallstatt in spring is around 10°C. April and May are the months, when you won't be experiencing snow anymore in the mountains, but you should be prepared for some rain. In spite of the rainfall, the visibility is very high in this time and the daylight is getting longer.
What to do in spring?
If you decide to get on your trip in this time of the year, pack your warm and waterproof clothes and prepare yourself for some beautiful hikes. If you are not a big fan of hiking, but rather go on a bike, there are many cycle paths around Hallstatt.
Waldbachstrub waterfall hike – Echern Valley
These waterfalls are the most beautiful in the whole Salzkammergut area and you should definitely see it. Hike to the waterfalls is relatively easy so you can go with your whole family. But do not underestimate your equipment – steady shoes are a necessity. You have many option which road to take to the Waldbachstrub waterfall. If you start at Hallstatt, you will go through Echern Valley. You can use a route called Malerweg, which will lead you directly to the waterfalls.
The start of your route will be at the parking spot P2 at Hallstatt. From there you follow the river up-stream. The nature around is amazing all the way. Once you have reached the waterfalls, continue to the trail Gangsteig. On your way back to Hallstatt you will go through Glacier garden with a beautiful view. If you want to extend your hike, you can go to the source of Waldbach River, it will add 1,5 kilometers to you whole trail.
Gosau on the bike
If you are passionate cyclist, Hallstatt will not disappoint you. There are plenty of bike trails in the Salzkammergut area with the length 345 kilometer altogether. If you prefer cycling just for relax and don't overestimate yourself, you can get on a road around the Hallstatt Lake. You can cycle around even if you didn't pack your equipment – there is always a possibility to rent a bike.
Since the Waldbachstrub waterfalls are going to be even more spectacular in spring, you should definitely go to see them. The bike trail leads right through Echern Valley and around the waterfalls. You can make it a round trip with the visit of Gosau City. This route is 46 kilometers long with the highest point 1529 m above see level. The maximum elevation is 1000 meters.
On this route you will go through the Gosau to the lake Vorderer Gosausee. It is a beautiful small lake in the middle of mountains. From there you will go up to the highest point on the Scheibe mountain. After that expect a sharp descent around the watterfalls to the Echern valley and then back to Hallstatt. If you want to shorten this track, there are many options where to go around Gosau. You can make it shorter for about 10 kilometers.
Obertraun trips in Spring
Less than 4 kilometers from Hallstatt lies a small town Obertraun. It is the place where River Traun flows into the lake. The river will be really wild in spring with all the melting snow from mountains. You can go on a hike from the lake along the river up-stream. You will go around small Koppenwinkllack'n lake and then you can visit Koppenbrühlerhöhle cave. If you skip the visit of the cave, the length of this route is 11 kilometers with almost no elevation. We wrote earlier about our Koppental hike.
On the bike you can go around the Hoher Sarstein and the elevation is around 500m (160ft). Big part of the route is along the river and Lake Hallstatt. You can enjoy amazing views on this trip. The start and end is in the center of Obertraun and the length of the trail is 32km (20miles).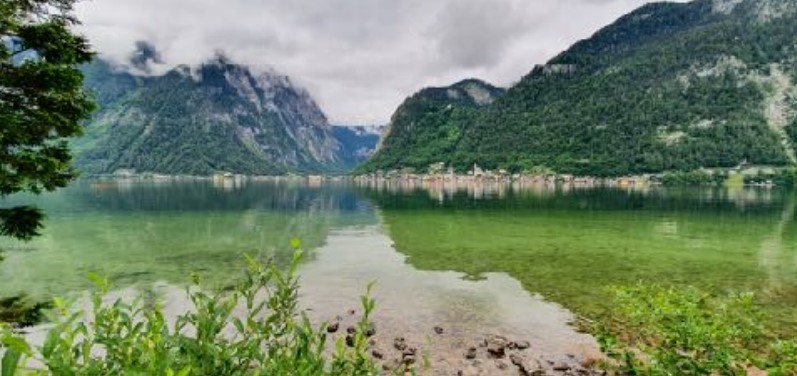 Events at this spring in Hallstatt area
If the hiking or biking is not your choice of spending you vacation, don't be afraid you won't find any activities in this area. Runners may be interested in a Hallstatt Half Marathon which will take place on April 23rd this year. Other than that you can join many guided tours both on your feet and bike. If you want some indoor activities – go visit some of the caves around this area or Salt mine in Hallstatt.
Spring vacation in Hallstatt
If you are planning a trip to Hallstatt and can't decide when to go – believe me, it is spectacular in every time of the year. Spring is just around the corner now, so if you are eager to get on the road, enjoy your spring vacation in Hallstatt in any way you plan to.