Camping Hallstatt – Discover the best Spots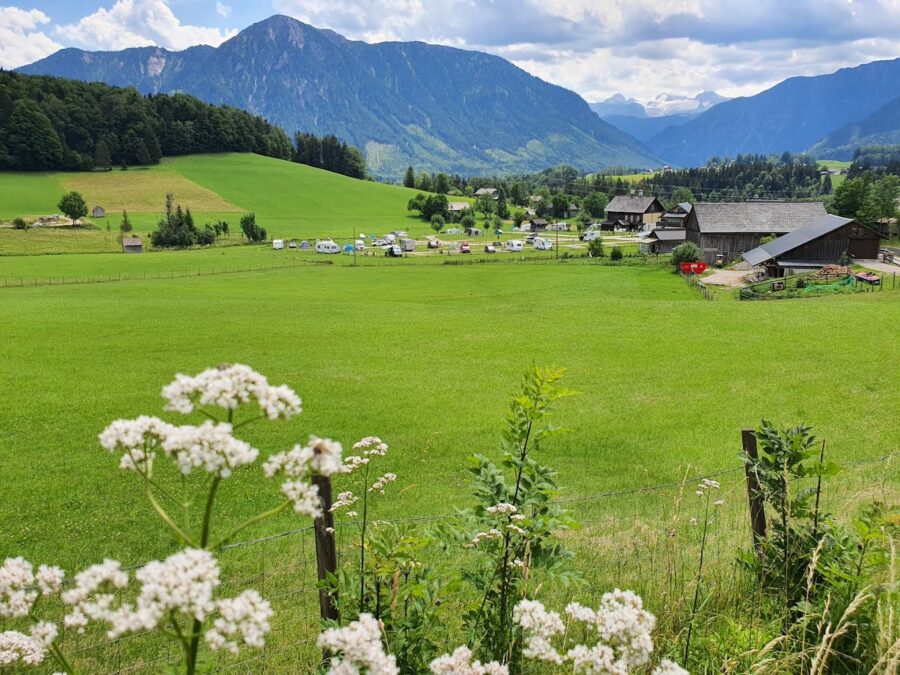 Discover the Best Camping Spots around Hallstatt: Unwind and Reconnect with Nature. From Lakeside Camping to Stunning Caravans, Find Your Perfect Getaway.
Are you looking for the ultimate camping experience in the Hallstatt area? Look no further! Our guide to the best camping spots in the region has got you covered. Whether you're seeking a serene lakeside retreat or a cozy caravan with WiFi, we've handpicked the top-rated options for you. Discover Camping Klausner-Höll, Camping am See, Obertraun, Temel Altausee, or Camping & Pension Grimmingsicht, and plan your dream vacation today. Read reviews, find out how to get there, and compare prices to make the most of your stay. Don't miss out on the perfect opportunity to unwind and reconnect with nature.
Here's a comprehensive guide to the best camping spots in the Hallstatt area and nearby places that will help you plan your ultimate camping getaway.
1. Camping Klausner-Höll Hallstatt
This campsite offers stunning lake views and a peaceful atmosphere. The facilities include a restaurant, a bar, a playground, and a small shop. The site is pet-friendly and has both tent and caravan pitches available. Open April 15th – October 15th
Address: Lahnstraße 201, 4830 Hallstatt, Austria, Phone: +43 6134 8322, Camping Klausner Höll Hallstatt
Pricing
All prices include VAT for overnight stays until 11:00 a.m. the following day.
| | |
| --- | --- |
| Adult | 16Eur/night |
| Children 4-14years | 9Eur/night |
| Children up to 4years | free |
| Dog | 3Eur/night |
| RV | 10Eur/night |
| Caravan with awning | 15Eur/night |
| Tent | 7Eur/night |
| Large mobile home | 15Eur/night |
| Car | 6Eur/night |
| Motorcycle | 3Eur/night |
| Trailer (ship/MB) | 6Eur/night |
| Extra charge for one night | 5Eur/night |
| Electricity per person (16 amps) | 1Eur/night |
| Mobile home parking 3 hours | 10Eur/3hrs |
| Caravan parking | 15Eur/5hrs |
Caravan parking is without electricity, WC, disposal
Owner's words
We are a family business and we are open for you from April 15 to October 15. The distance to the beach with a bathing island and a large children's playground is 100 m, to the center of Hallstatt 800 m and the Salzberg cable car, boat dock, supermarket, tennis courts, bus stop and diving school are about 250 m away.
Reviews
Do yourself a favor and avoid. In winter is just a very expensive parking lot (10e/3h), no services whatsoever and the owner is horrible. We waited for him for 15 min after the specified opening time. He showed up just as we decided to leave and after aggressively asking what we wanted he cursed us out in German thinking we couldn't understand, making a disgusting reference to our country when we said we had wanted to park but are not staying after all. Bare in mind we had not disturbed him at all, no phone call, no buzzing, we had just waited in front of the gate. The man is a rude, disgusting xenophobe.
Worst camping experience I've ever made! Avoid this place, the guy working there has a big mental problem in my opinion. I was always polite and respectful while talking to him, but he reacted super aggressive, insulting and angry. If you are traveling alone as a women, you feel scared and NOT SAFE! Only would give this place – points, even if the location was great, but also the prices offseason are a joke!
More reviews
We visited this camp for a couple of nights in September. It has a very good location (walking distance to the lake, Hallstatt or the waterfalls) with beautiful mountains all around. The owner is a bit cold and has a strict personality, but wasnt unfriendly at us at any point. Perhaps he gets more annoyed during peak season with masses of tourists coming from everywhere.
First of all this place was very close to the center. I liked all about the place like flat place, enough space, clean sanitary. The price for one night for three people including caravan and electricity 58 euros. Its quite expensive but the location is very good. What I didn't like about it as everyone mentioned on their comments that the receptionist men was arrogant, rude acting, i felt like i was not welcome there. This is because as they feel as a monopoly there. Next days there was a woman and she was better then man. His acting was like that he did not wanted us there. I am happy with the facilities but receptionist acting is not acceptable.
The man at the reception is probably fighting his own alcohol life, otherwise I can't really explain his behaviour. Absolutely unprofessional and non-moral treatment. I don't recommend even thinking about going there.
Really nice camp, everything was clean and it is really close to center of Hallstatt. I would give 5 stars, but I have to give 4 because of the ,,receptionist" who is mentioned in almost every review. He is really rude. But if you are able to put his terrible behavior behind and communicate with him just with ,,yes" and ,,no" 😀 you will be really happy there.
The reviews on TripAdvisor and Google are not the best, so we recommend that you really think carefully about whether you want to spend your vacation here.
2. Camping am See, Obertraun – Hallstatt lake – Carola Hinterer
This campsite is on the opposite side of the lake from Hallstatt, in the charming village of Obertraun. It offers direct access to Lake Hallstatt and has a private beach.
Address: Winkl 77, 4831 Obertraun, Austria, Phone: +43 6131 265, Camping am See, Obertraun
Pricing
| | |
| --- | --- |
| Adult | 15Eur/night |
| city tax | 3Eur/night |
| environmental tax | 3.50Eur/night |
| small tent 2-3persons | 12Eur/night |
| small tent 4 persons not on lake side | 14.50Eur/night |
| House tent on lake side | 16Eur/night |
| VIP place – house tent directly in front of lake | 75Eur/night |
| small caravan (380cm) not on lake side | 17.50Eur/night |
| bigger caravan or any caravan on lake side | 19Eur/night |
| Car where you sleep | 19Eur/night |
| VW bus | 19Eur/night |
| normal motorhome not on lake side | 21Eur/night |
| large motorhome or lake side | 22.50EUr/night |
| dog | 6Eur/night |
| car parking for noncampers | 15Eur/day |
| motorbike parking for noncampers | 7Eur/night |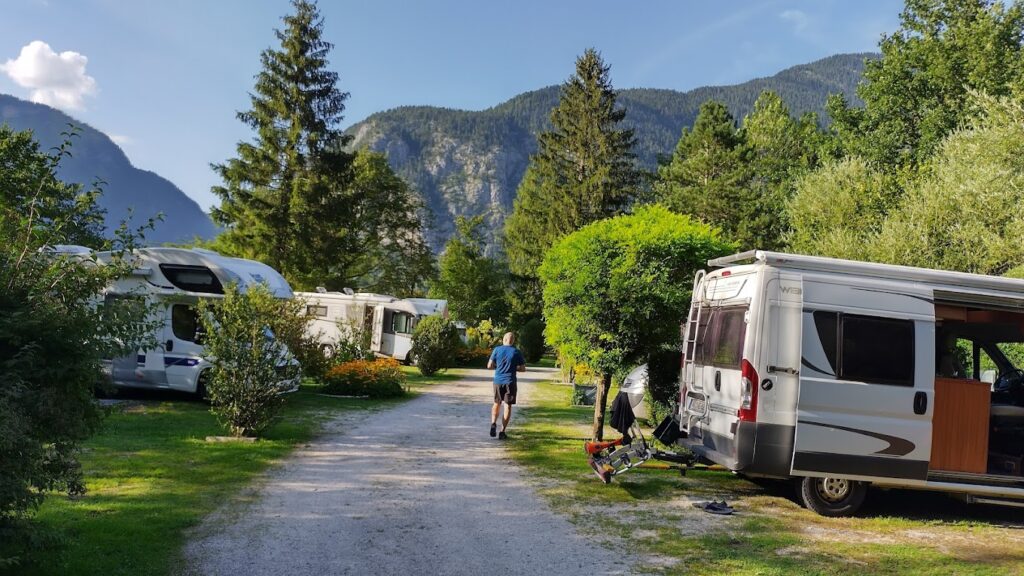 Owner's words
Ecologigal camp. Over 600 native trees, only wood heating, no gas, no oil, no chemicals in the park, no pesticides, only own composted soil, 300 m. hand-cleaned natural own beach!
Reviews
The most bizarre thing I have ever experienced in Austria. Unfortunately, a beautiful campsite in a wonderful location contrasts sharply with the personality of the owner, who apparently suffers from some kind of mental disorder, otherwise I cannot explain his behavior. To describe the entire two-day visit in detail would take up a novel, so I'd rather just summarize the recommendations especially for renters – if you don't want overpriced harassment from an egotistical maniac, then definitely not here.
Camping in a nice place, but the handling is terrible. On the road from Halstatt, there is only an inconspicuous campsite sign on the left side of the road, which the driver easily misses. So before arriving, I called the owner twice for navigation. Already on the phone, he told me what a fool I was for not finding it. We arrive at the campsite at 2:15 p.m. and the reception is closed. There is a surprising inscription on it: lunch break 2-5 p.m. However, the owner did not bother to tell me this information when I spoke to him a while ago, we could have gone somewhere else in the meantime…..
So we are cooking lunch and suddenly a person appears next to the caravan guy and stares in. I asked "what do you wish"? And he "what do YOU want?" "And you are the guest or the owner"? Touched, he told me that the owner, and how did we dare not to check in at the reception on arrival. So I explained to him that it was closed. And he dragged me to that confusing sign like a little boy and showed me that under the big sign "RECEPTION" there is a tiny arrow that seems to point somewhere else…. He wanted to take our passports as a pawn!!
With the fact that we will deal with the check-in only after his huge lunch break at 5 p.m. I told him that it was unacceptable, and he, let me ask this and that guest, that that's just how he does it…. In the end, we they agreed that we would leave the camp for Halstatt and arrive with our passports when it mercifully works. Fortunately, we found a nice campsite just below the cable car to the Skywalk, and we didn't go back to this nasty guy. And this despite the fact that my partner liked the place as such.
More reviews
Pleasant environment and staff if you respect their rules. I recommend it to quiet families… I definitely don't recommend it to groups who want to steam in the evening.
We only went with a car and a tent. We didn't have a reservation. It is a really beautiful, peaceful camp. We liked the camping style where the cars were on the gravel road and the tents were on the beautiful grass a short distance away. Access to the lake from the camp. Clean restrooms, but extra paid showers. Benches and tables are freely available in the camp, but there are no trash cans. The price is really high (everything is paid separately: taxi, person, tent, car…). The camp is also not accessible non-stop (only from 9 am to 9 pm). On the other hand, it's Halstatt.. that has to be assumed 🙂
Beautiful campsite, nicely maintained, but very expensive indeed. With a motorhome and two children, 60 euro per night (more expensive than in Salzburg), but then you have to pay another 0.5 euro for a shower, that's absurd. If you want to save money, there are several car parks in Obertraun where you can park your motorhome overnight.
Amazing camping! Haven't been to a cozier camping than this. Lot's of green everywhere so it feels like you are staying in a well maintained garden. Views on the lake are great and the lake itself is perfect for a refreshing swim or taking out your SUP. Toilets and showers were always clean, nice grilling spot available, great terrace to have a drink in the evening or breakfast in the morning. Definitely worth it and we will come back for sure. And about the owners (whom a lot seem to complain about), they were super nice to us, chatted with us in the evnings and the so called 'grumpy old man' even gave us a good tip for a local restaurant and a nice scenic route to take to our next destination.
3. Camping & Pension Grimmingsicht, Bad Mitterndorf – 30Min from Hallstatt
This campsite is located in the scenic village of Bad Mitterndorf, about a 40-minute drive from Hallstatt. It offers a range of accommodation options, including tents, caravans, and apartments.
Address: Bad Mitterndorf 338, 8983, Austria, Phone: +43 3623 2985, Camping Grimmingsicht, Bad Mitterndorf, email address is: camping@grimmingsicht.at
Pricing
| | |
| --- | --- |
| Adult | 7.25Eur/night |
| Children 3-15yrs | 5.10Eur/night |
| place | 6.75Eur/night |
| electricity connection | 0.80Eur/night |
| electricity 1kWh | 0.85Eur/night |
| tax 15years and older | 3Eur/night |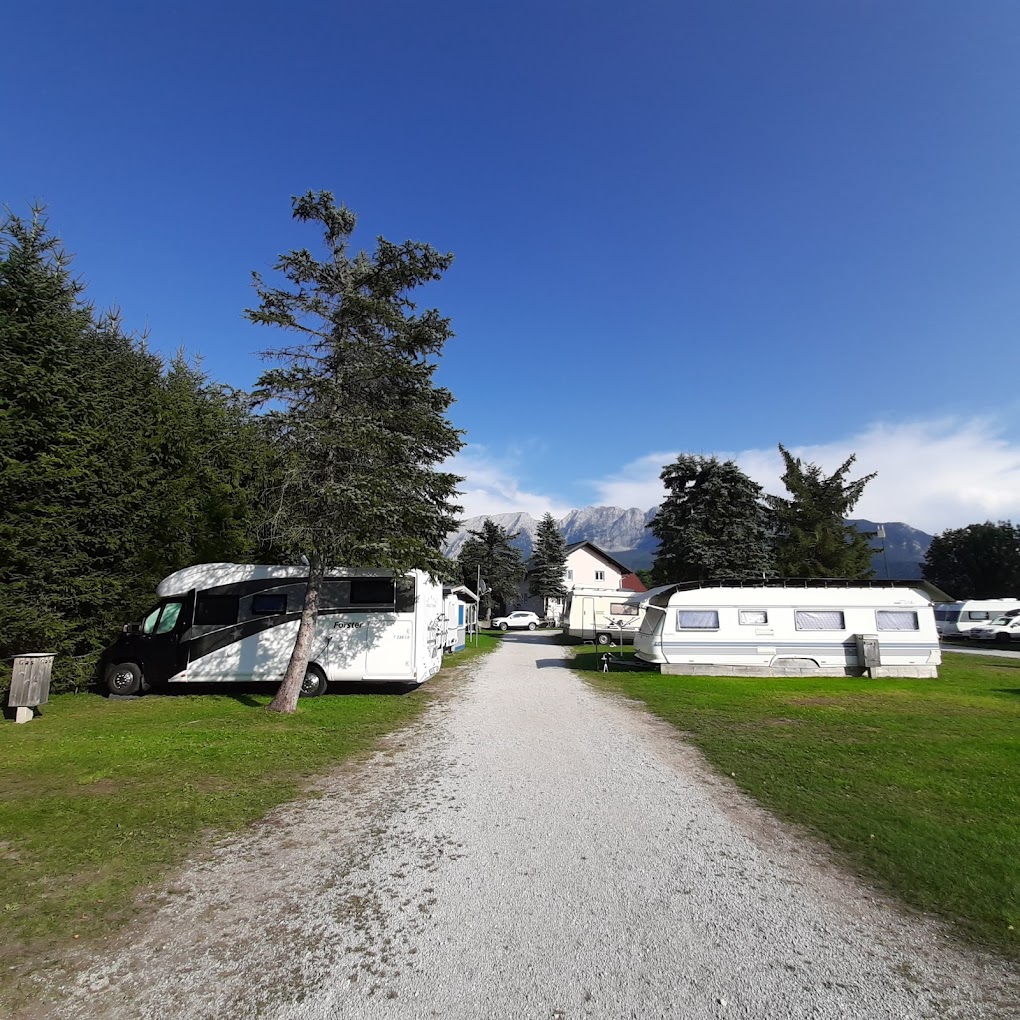 Owner's words
Camping Grimmingsicht is located in the charming countryside of Ausseerland in the Styrian Salt Chamber. A campsite where Dutch management offers Austrian hospitality! The campsite is located in a quiet location about 500 meters from the village and has a beautiful panorama of various mountains such as Grimming and Lawinenstein.
The floor is natural grass. The campsite has 36 places. (25 tourist spots). The camper looks at the campsite with different eyes. He wants a clean sanitary building, a well-maintained space and personal attention. We believe that the good efforts of the operator are an important contribution to guest satisfaction. Camping "Grimmingsicht" is run by its owners, who are themselves enthusiastic campers who are there for their guests with heart and soul. We will provide you with information and assistance, just as we would at a campsite. This approach ensures that you will experience a relaxing and rejuvenating holiday with us! In short, Camping "Grimmingsicht" is a campsite where you become friends as a guest! We look forward to welcoming you as our guest!
Questions and reservations can be sent to us by e-mail. A reservation is only binding when you receive a reservation confirmation from us. Unfortunately, our pitches are not suitable for motorhomes and caravans over 8 meters (in the case of caravans including drawbar).
Reviews
A beautiful small campsite, large space for a tent and a car, clean facilities. In addition, the surroundings are beautiful, great routes for hiking, cycling…
Quiet place, everything beautifully clean. The accessibility from this place is perfect.
The owners are very nice people and will help with everything. We will definitely come back here and I recommend the camp.
Amazing owners. They were really nice and accommodating. Everything was clean and with the option of sorting waste
Perfect place, great facilities, kind and helpful owners, everything you need at hand, low prices. A few steps from the campsite is Billa, should the worst happen. Beautiful surrounding nature. For me, I can only recommend
4. Camping Temel – Puchen – Altausee – 25min to Hallstatt
This idyllic campground is located in one of the most beautiful places of Austria, embedded between vast meadows, near the pristine Altausseersee and surrounded by impressive mountains.
Address: Puchen 137, 8992 Puchen, Austria, Phone: +43 362271968, Camping Temel, Puchen, email address is: liga.temel@gmx.at
Pricing
| | |
| --- | --- |
| adults | 10.50Eur/day |
| children 3-14years old | 5Eur/day |
| car | 3Eur/day |
| caravan | 5Eur/day |
| motorhome | 8Eur/day |
| motorcycle | 3Eur/day |
| small tent | 3Eur/day |
| big tent | 5Eur/day |
| electricity | 4Eur/day |
| tax | 3Eur/day |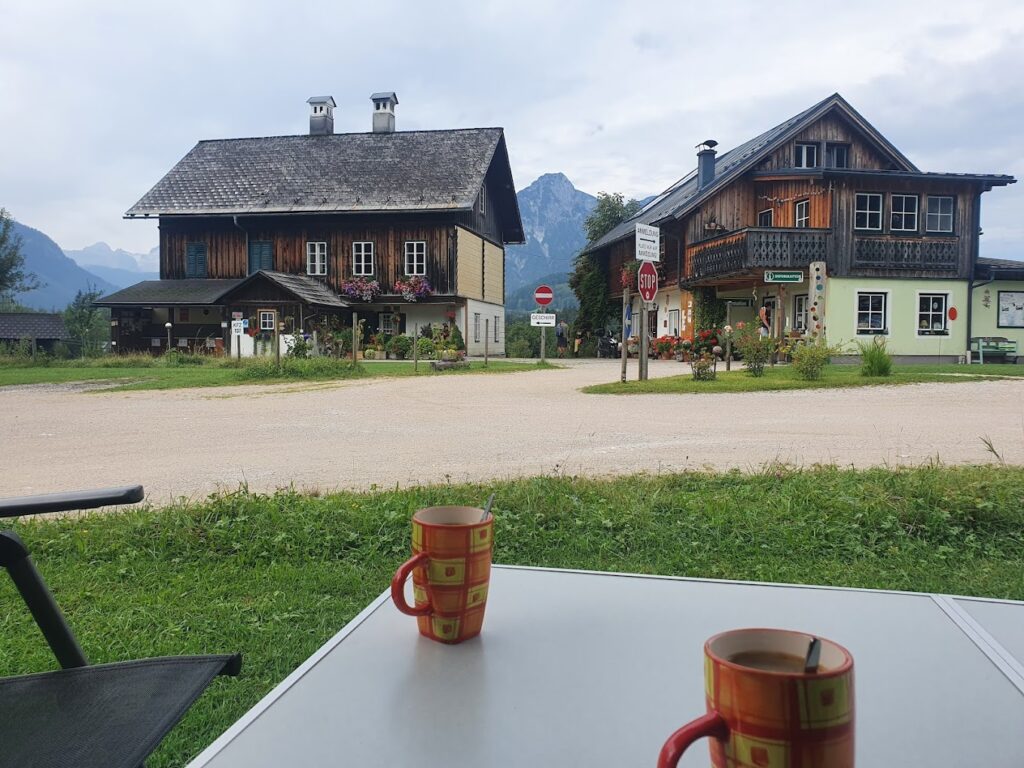 Absolutely amazing campsite we have ever been to. We were not here for the first time and certainly not for the last time. There is a calm which is in first place for this campsite. Pleasant and accommodating owners, they will provide you with a fresh breakfast straight from the bakery… This place cannot be faulted. We are already looking forward to the next time.
A quiet camp in a magical setting with a view of the Dachstein glacier. In the nearby area, it is possible to undertake hikes of various difficulties. 15 min walk to Altausseer See, 40 min to Grundlsee, 1 hour to Tressenstein observation tower.
Very nice and quiet camp in the middle of the mountains, friendly staff, order fresh bread from the local bakery right in the camp, nice showers everywhere, clean and relaxed, the world is still right here 😉
4. Camping Gößl am Grundlsee – 30min to Hallstatt
The small family camp is located in a beautiful natural landscape surrounded by meadows and forests and the mountains of the Dead Mountains. In this place you can find a quiet place for vacation (grass in the whole area, no trees)
Address: Gößl 17, A-8993 Grundlsee, Austria, Phone: +43 (0)3622 20155, Camping Gößl am Grundlsee, email address is: office@campinggoessl.com
single washing cubicles
baby bath
dishwashing room
laundry room with washer and dryer
and spacious showers
Pricing
| | |
| --- | --- |
| adults | 7.50Eur/day |
| children 2-14 years | 3Eur/day |
| small tent | 3Eur/day |
| large tent | 4.50Eur/day |
| small caravan | 3Eur/day |
| large caravan | 4.50Eur/day |
| car | 2.50Eur/day |
| motorcycle | 1.50Eur/day |
| electricity | 4Eur/day |
| tax | 3Eur/day/adult |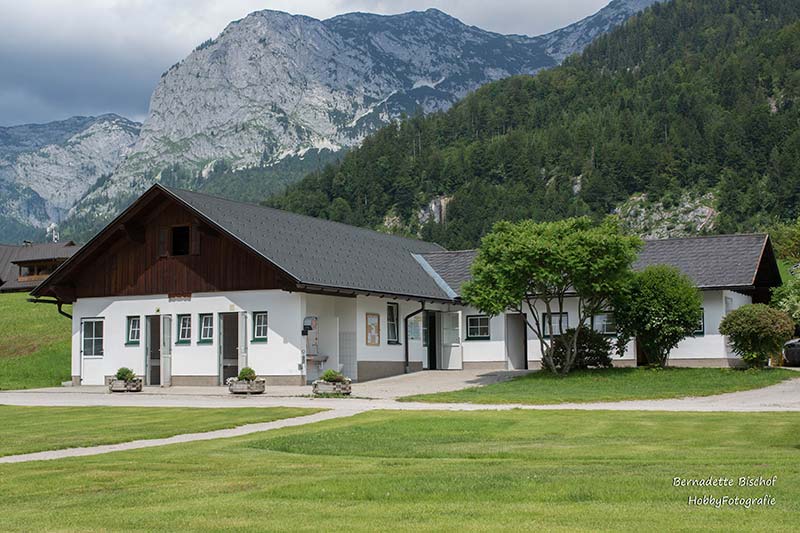 Reviews
A beautiful campsite, very well equipped, logically very full in the season, but in a quiet and beautiful environment at the end of the lake. Nearby, outside the restaurant, there is also a small shop with everything you need to possibly replenish fresh supplies. Everything that the camp promises is fulfilled here.
Super nice and pleasant lady at the reception.🌞 Great prize
And subsequent services in the camp completely free of charge, beautifully clean toilets, a bathroom, a laundry room (several washing machines available, also free of charge), water to refill the car, everything you can think of and all that in the middle of the Alps right next to the forest, in the forest a wonderful trail to an even better restaurant. I highly recommend and give a 10/10 rating
Beautiful place, perfect service. Showers all day with very warm water. Social facilities spacious and sufficient. Washing machine, dryer for money, but cheap. Use for the whole family in the area. Beautiful path location suitable for a stroller or bike in the forest between lakes and other attractions. Or steep paths to the top, ridge, ferrata, climbing of various categories. I warmly recommend
Lots of people during the holidays. Clean social facilities. Good price. But by far the best is the location a few steps from the beautiful Grundelsee lake 👌
Such a smaller family camp. Beautiful environment and surrounding landscape. The campsite is nice and well maintained, clean everywhere. A nice and helpful lady at the reception. You can buy cold drinks there, etc. By Austrian standards, the camp is at a decent price. Right across the road is the Grundelsee lake, where the water is wonderfully clear, and there is also a restaurant by the lake. You can rent a paddle board here and I think even a smaller boat. When I go to this area again, I will visit the camp again.
5. Campingplatz Birkenstrand – Wolfgangsee – 30min to Hallstatt
6. Terrassen-Camping Wolfgangsee – 30 min to Hallstatt
Conclusion to Hallstatt camping
In conclusion, the Hallstatt area offers two campsites with high prices and not so great reviews. Nearby villages or lakes offer a range of excellent camping options for those looking to unwind and reconnect with nature. Whether you're seeking a peaceful lakeside retreat or a cozy caravan with WiFi, there's a campsite that will suit your needs. Be sure to read reviews and compare prices before booking to make the most of your stay. Happy camping and enjoy your trips to Hallstatt.