Hallstatt paragliding – experience of flying like a bird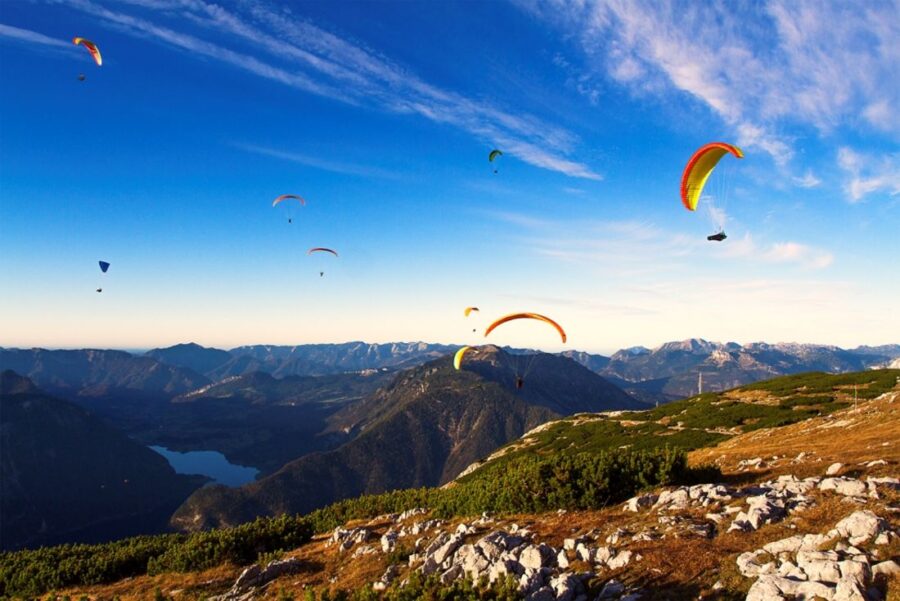 Hallstatt paragliding – have you ever dreamed of flying like a bird? It doesn't have to be just a dream anymore because this wish can be fulfilled quite easily these days…. Let's create new wonderful memories and try paragliding in Hallstatt! You will fly through the air, noiseless – just like a bird! You don't need any special skills, training or previous experience as you will have a very experienced paraglider pilot by your side, so no worries. All you need is a little courage and a desire to experience a new adventure. Located in the Dachstein Krippenstein region of the Salzkammergut, Hallstatt is a very popular paragliding destination due to its beautiful natural scenery such as picturesque lakes or majestic mountains and relatively stable weather conditions.
Only persons from 6 years of age and older can participate in this sport + their weight must
be between 30 and 100 kg.
Hallstatt paragliding
As has already been said, the Dachstein Krippenstein belongs to the most impressive flying areas in the Alps for paragliders. The reason for the popularity of this place is not surprising – the difference in altitude between starting and landing point is usually more than 1 500 m. (altitude difference of up to 2000 m. from Dachstein), so you can enjoy magnificent views of Lake Hallstatt that provides this unforgettable flight!

A tandem flight with paraglider pilot by your side is kind of easy way to reach the sky – all you need to do is just run a short sprint and jump into freedom! From the summit of the Krippenstein is possible to take off to the east and west wind directions as well and then you will fly down to the Lake Hallstatt. The landing area is made on a prepared landing point (can be directly at the lake). Flight from the top of the hill takes around 15 – 25 minutes.
Best time for paragliding in Hallstatt
The best time of the year for paragliding in Hallstatt is from April to October, because the weather is generally mild and stable at this time. But still it's important to check the weather forecast before planning the flight. You just have to keep in your mind that the weather in the mountains can change very quickly. Especially in the summer months of June, July and August (on hot days) turbulent winds can
form in the afternoon in the valley of Krippenstein and last till the evening. Therefore, it is necessary to carefully monitor the weather forecast before taking-off. You can check the weather forecast in the Hallstatt area here –> INFO UND MEDIA SYSTEM –> Webcams | Dachstein Krippenstein
Paragliding flights are also offered in the winter, so you can enjoy the winter landscape around Dachstein and Schladming from above as well. Thanks to the cold and clear air you may see far into the distance. That view would be definitely breathtaking! Tandem flights are usually available every day and it´s possible to book them by phone, email or online on the website.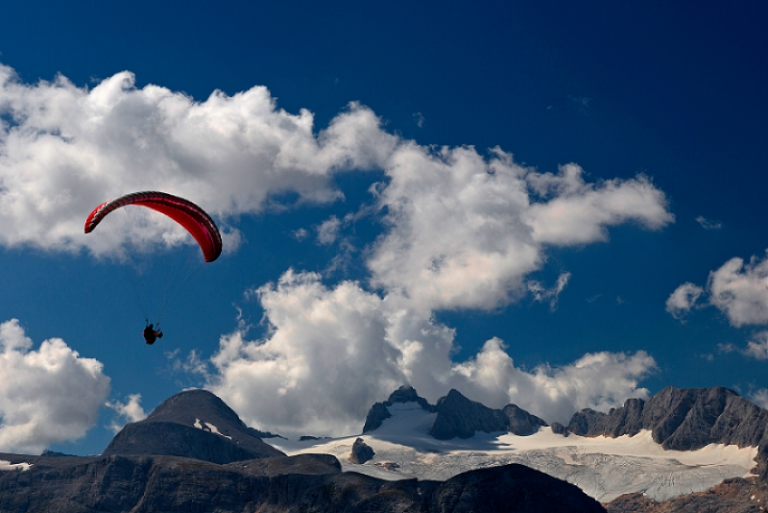 Paragliding centres in Dachstein-Krippenstein area
Around the Dachstein glacier there are lots of facilities for paraglider pilots and companies that offers tandem-passenger flights or courses for beginners.
1. Flight School Sky Club Austria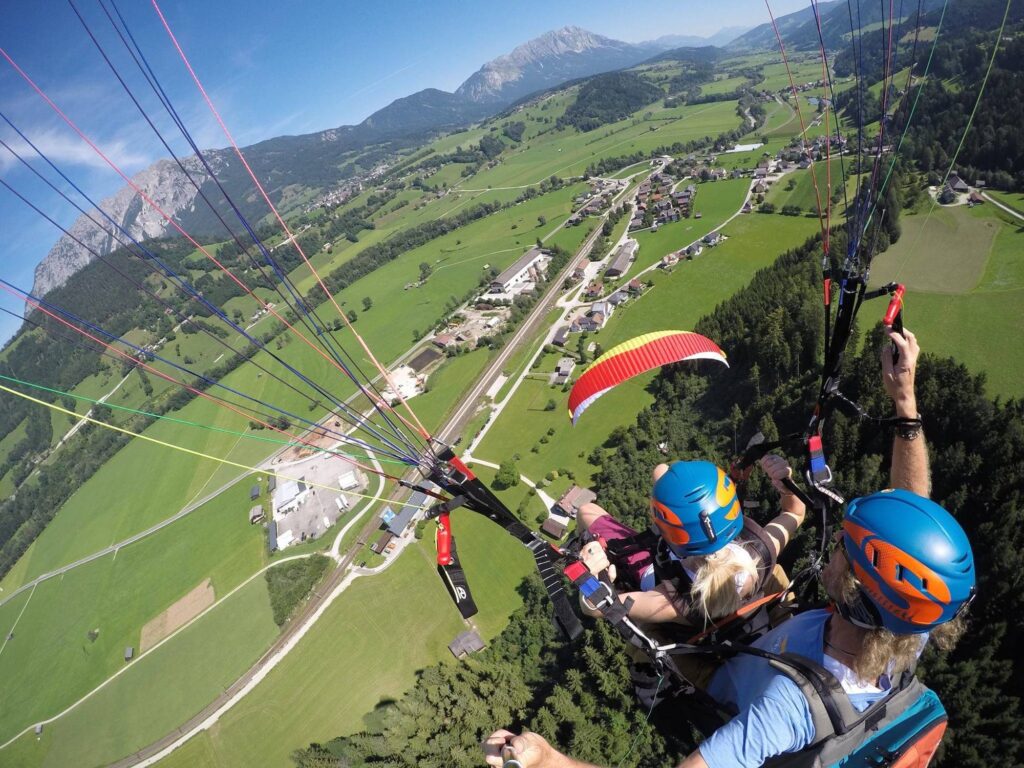 The most famous flight school in the Dachstein-Krippenstein region of Salzkammergut is Flight School Sky Club Austria. The flight starts on the top of the Krippenstein which is a perfect place for taking-off and enjoying spectacular panoramic views. The landing field is located at the lake Hallstatt which is protected from the wind due to its location. You can choose between many options of starting points, which you can check on the website of the company. See the price for paragliding.
Contact person: Mr Flugschulleiter Walter Schrempf
Address: Moosheim 113, 8962 Gröbming
Telephone: +43 3685 22333
E-mail: office@skyclub-austria.at
Web: skyclub Austria
It was just a dream…
This tandem flight with Stefan R. was done so professionally that you could fully indulge your five senses. Enjoy, relax and recharge, these were the goals of my tandem flight yesterday. They were fully filled. The view of Lake Hallstatt was uniquely beautiful and I look forward to next year. The confidence in the tandem pilot was perfect, so there was no fear at all. One day my dream is to fly alone. For those who are not yet sure about taking off. It's not a strong moment, but a really comfortable run. You have to know the feeling. 😉
My wife and I had the most amazing experience doing tandem paragliding with Stefan Rupp and Stefan Morocutti earlier today from the Krippenstein peak. Simple pre flight instructions and flight was smooth. Initial fears were quickly replaced by wow and wonder as soon as we took off. The awesome views of the snow capped mountain ranges and the valley below- the Hallstatt Lake – on the way up and during flight were beyond what we can show on photos. Highly highly recommended.
2. Flugschule Aufwind
Tandem flights are available daily from 18.5.2023 (summer season).
3. Paragleitflugschule Airsthetik

Address: Badgasse 231/10, 8970 Schladming
Telephone: +43 660 8877440
E-mail: office@airsthetik.at
Web: www.airsthetik.at
Paragliding Hallstatt – starting point
You will ride up by Dachstein Krippenstein cable car (section 2) together with the pilot to the
station Krippenstein. All important information about cable car running times and prices can
be found here –> Summer operation | Dachstein Krippenstein (dachstein-
salzkammergut.com).
From the station Krippenstein you walk around 20 minutes to the paragliding starting point, which is located near to the viewing platform Five fingers. Then you ́ll just jump and enjoy breathtaking view of the Salzkammergut region till you will get into the valley! This is the best point for seeing Hallstatt itself and Hallstatt lake, but there are also starting points nearby such as Planai or brave paragliders can start
directly from the Dachstein Glacier.
Paragliding Hallstatt – landing point
The landing point of the company Flight School Sky Club is located on Höll-Karl Weg, in the Winkl district, on the north side of the Traun river, east of the soccer fields of the Obertraun Federal Sports and Recreation Centre. Remember, that it ́s prohibited to access the area by car. The best option is to park your car at the large parking lot near to cable car. Then it ́s possible to get back to the Dachstein-Krippenstein cable car by walk (10 minutes) via the forest path.
Few words in conclusion
Overall, paragliding in Hallstatt area is definitely an incredible and memorable experience for those who are excited to explore the stunning Austrian landscape from above and are ready to enjoy a thrilling adventure! So book a tandem flight and let ́s have some fun in the air while flying like a bird through a
spectacular natural scenery!