Hallstatt Christmas- taste the mulled wine!
Hallstatt Christmas – If there was a competition for the most beautiful town on a postcard, Hallstatt would definitely win. The smell of Christmas candies floating through the typical houses of the old town. A view of the snowy mountain landscape with a shimmering lake. The charming town Hallstatt offers a warm atmosphere even on the coldest days.
Hallstatt at Christmas – that means ubiquitous Christmas decorations, lights, traditional specialties, and snow covering the roofs of picturesque wooden houses. This European treasure is located between the lake of the same name and the Dachstein mountains. Together they are a UNESCO-listed area and offers everything you expect from a Christmas town.
What to do in Chrismas at Hallstatt?
It is known that Hallstatt is heavily visited especially in summer. In winter, snow covers the town, and it becomes a true paradise for lovers of Christmas markets and other winter activities.
Does Hallstatt have a Christmas market?
One of the most magical! The Christmas market starts in Hallstatt every year on 8 December. The local market is known for its charming atmosphere. It is especially enhanced by traditional music, a wooden nativity scene and typical delicacies – for example the most popular Kaiserschmarrn, a lightly sweetened pancake that takes its name from Emperor Franz Joseph I of Austria, who loved this fluffy sliced pancake.
Although the Hallstatt Christmas Market is famous for its traditional delicacies such as mulled wine, Christmas punch or Pinecone schnapp and sausages, don't forget to sample the famous sweets called Lebkuchen and spicy smoked fish from Hallstatt Lake during your visit!
If one Christmas market is not enough for you, we also recommend visiting the Gosau Christmas market, where a lantern parade is held every year. Also worth mentioning is the Bad Goisern Christmas market. There you will find a workshop with the opportunity to try out local crafts.
Explore the Christmas in Hallstatt town
Hallstatt has a beautiful historic centre, called Marktplatz, where most of the Advent events take place. Around the square you will also find many places where you can warm up and have a delicious meal. After you've had your fill, we recommend a short walk to the Evangelische Pfarrkirche. Concerts are regularly held during Advent and open to the public.
Instagram friendly town
Hallstatt is often described as a postcard-perfect town. If you are a passionate photographer, or if you like to decorate your Instagram with nice photos, the Christmas Hallstatt is perfect for you. You definitely shouldn't miss a walk through the picturesque streets with pastel colours and the occasional pose for the camera!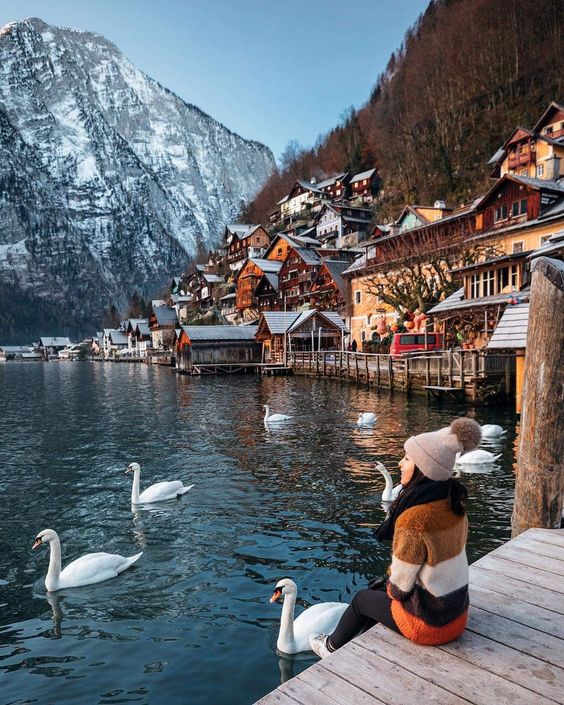 A little tip for true enthusiasts. If you use the keyword "Classic Village Viewpoint / Postcard Angle" in google maps, you will discover a place from which you can take a beautiful panoramic photo of Hallstatt. Or see our post about best Hallstatt viewpoints.
What are Austrian Christmas traditions?
Advent time begins in Austria four Sundays before Christmas Eve. Austrians light one candle on the Advent wreath every Sunday. It is usually at this time that the Christmas markets open and especially in smaller towns you will find a very traditional program.
Popular programs include carol singing. Not many people know that the carol "Silent Night" – in the original "Stille Nacht, Heilige Nacht" – was first heard in Austria, in the Church of St. Nicholas in Oberndorf, Austria, a town neighboring Hallstatt. If you want to learn a few songs, we recommend playlist with Austrian Christmas carol.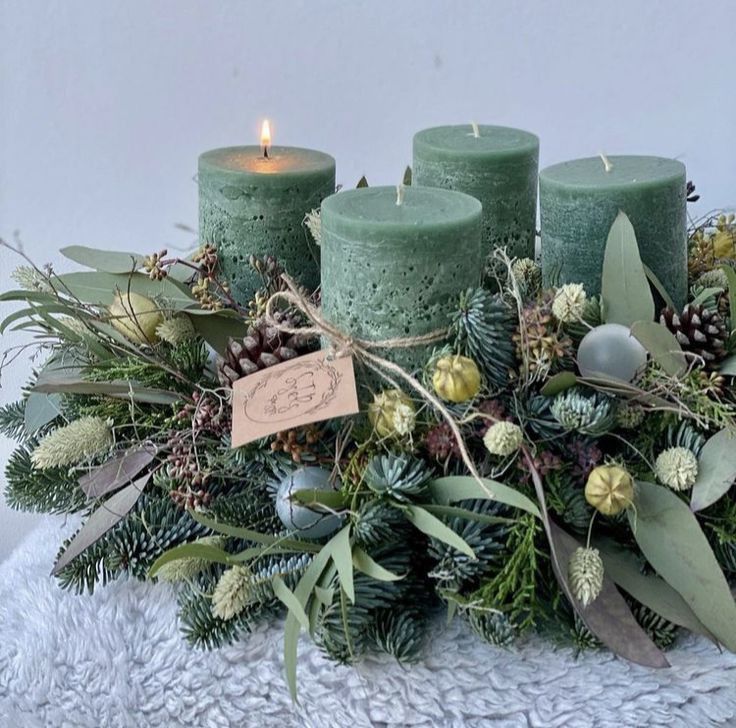 Every year on 6 December St. Nicholas and his companions also visit the Christmas market and presents the children. Traditionally, the well-behaved are rewarded with sweets, nuts and tangerines, and the badly behaved ones may hear a warning.
On the day of the arrival of St. Nicholas, the Christmas markets are visited by the so-called "Krampuslauf". Marches of terrifying devils through Austrian towns and villages. You can meet these devils at the markets from their arrival until Christmas Eve, 24 December.
Groups of devils are accompanied by infernal chariots, woodmen, various bogeymen, cowbells, chains, loud music, smoke and fumes. Each mask is a little work of art. They are carved from lime or pine wood and hand painted. On each mask are attached real horns, which are mainly taken from mouflon, ram, chamois and goats.
The fur coats are made from genuine skins of mountain sheep or goats. Each Krampus has a cow bell or large bell hanging around his waist, a wicker broom in his hand, which he whips the onlookers with, and an extra supply of brooms in his knife in case the broom breaks. The loud ringing of the cow bells is supposed to chase away evil people.
Is Hallstatt crowded in December?
Even though temperatures are frigid, Hallstatt is full of sightseers and others who enjoy cold weather during the winter season. In fact, the city receives an estimated 1 million visitors annually, but most of them come in summer months.
Hallstatt in winter is a fairytale destination where you are greeted by stunning snowy mountain views and traditional lakeside architecture, putting Hallstatt at the top of the list of dream destinations you should visit once in your lifetime.
It's a great place to visit at any time of year, but the snow that blankets the town in winter adds to its charm. Despite the beauty it offers, especially at Christmas, Hallstatt is much less touristy than it is in summer, for example. This Alpine village is truly an Austrian treasure waiting to be discovered.
Whether you're thinking of a day trip or a longer one, be enchanted by the historical treasures and natural beauty that Hallstatt has to offer. See Hallstatt itinerary
And if you're craving other activities, for example the ski resorts here offer a range of exciting winter sports to keep you warm.