Rossalm Gosau – The magic of the inconspicuous rest area
Peace, relaxation, animals, local cuisine, all this is offered by the Rossalm Gosau. Rossalm Gosau is an ideal resting place at an altitude of 1387 metres above sea level. Elisabeth and Alois Hubner take care of the rest area. Not only do they take care of the operation of the Rossalm rest area, but they also take care of the guests who come to enjoy nature and home-made products.
Main information about Rossalm Gosau
Where to find a quiet place called Rossalm Gosau ?
When can you visit this peaceful Rossalm Gosau ?
Amazing homemade products
Something special
Reviews
MTB Hallstatt loop through Echerntal valley to Gosau
Route from Hallstatt to Rossalm Gosau
Route from Gosau to Rossalm Gosau
Discover the surroundings of Rossalm Gosau
Summary
Main information about Rossalm Gosau
The indoor seating area has 20 seats and the outdoor seating area has 70 seats. Cash payments are accepted here, but beware as there is no battery charging facility for e-bikers. Larger groups such as school classes, groups of friends, families, parents with small children and even dogs are welcome.
Where to find a quiet place called Rossalm Gosau?
High peaks, beautiful and clean alpine pastures with flowering meadows with cattle and other animals in the Dachstein Salzkammergut holiday region. The Rossalm is also a popular meeting point for cyclists as it is part of the well-known Dachstein circuit and also a section of the famous Salzkammergut Mountain Bike Trophy. Rossalm.at
When can you visit this peaceful Rossalm Gosau?
If you would like to visit Rossalm in winter, we will disappoint you, because this chalet is closed in winter, but you can find inspiration on where you can visit in winter at the following link – Dachstein West ski resort.
However, from the end of May to mid-September, the cottagers will be happy to look after you as if you were their own children. Rossalm is open every day except Thursday from 10:00 to 17:00.
Amazing homemade products
Another reason we loved Rossalm was the treat we received. As we are not only in a high mountain hut, but also in a beautiful pasture. The cottagers make their own alpine products such as milk, yogurt, cheese and bread. Thanks to this, you can enjoy homemade delicacies such as the unforgettable Kaiserschmarn or the delicious Guglhupf, open rustic bread and homemade Zirbenschnaps (pine brandy). You'll also find a carbohydrate-rich pasta dish designed for cyclists who need to replenish their body's sugars.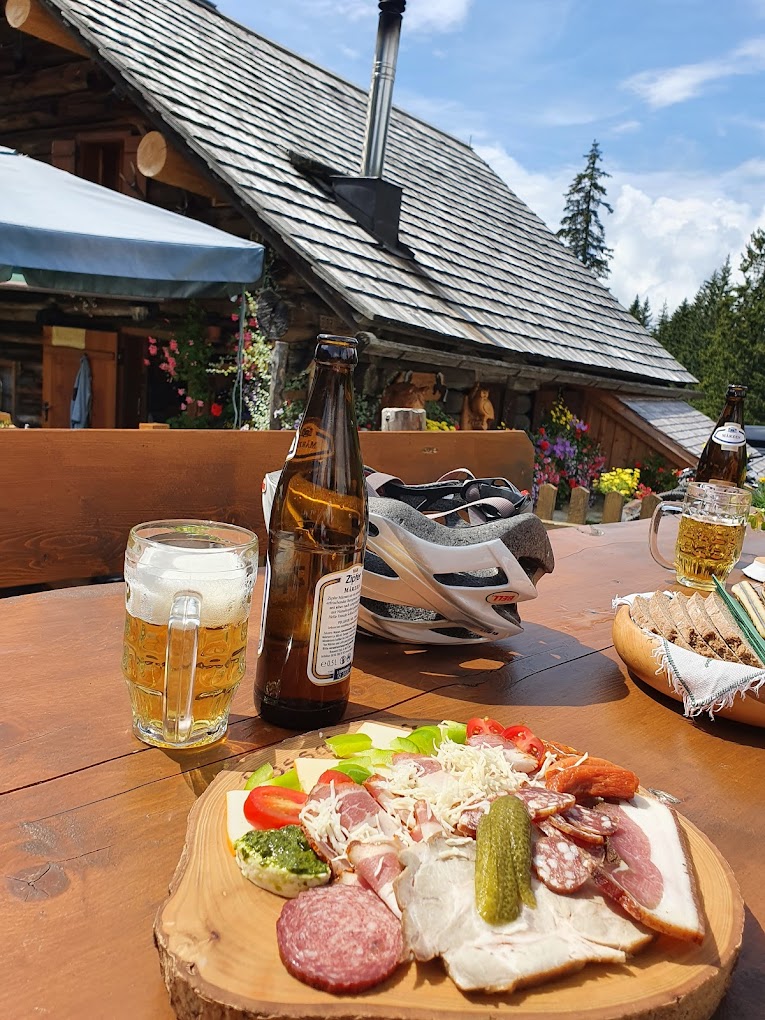 Something special
Relaxation, delicious cuisine, breathtaking surroundings, but Rossalm still brings something extra. This alpine chalet is also known for its alpine zoo. The wooded pasture is home to 15 cattle, including 6 suckler cows. There are also 2 horses, a pony, sheep and donkeys. So an experience not only for adults, but also for your little ones.
Reviews
We really enjoyed it here! Even our junior, who is normal Prince, plastered everything, even the courtesy bite! We'd love to come back on our next trip to the forest.
Beautifull place with perfect owners/staff. Real mountain paradise 👍👍👍
A beautiful alpine pasture that has retained its originality. As a skilled craftsman, Alois is maintaining this old building professionally. Elisabeth conjures up the best dishes from the farm's own products. Here you feel really comfortable when the cows, horses and ponies are grazing next door, the mobile phone has no signal and the light sometimes flickers briefly in the hut.
MTB Hallstatt loop through Echerntal valley to Gosau
Do you love the breeze in your cheeks and the adrenaline in your veins along with admiring nature? On this exciting cycling trip you will not only admire the beauty of the Echerntal valley and its bubbling streams and waterfalls. Along the way, you'll be impressed by the mystery that the valley holds, whether from a favourite haunt of hikers and climbers or artists and poets. Along the way, take a soothing break at Rossalm Gosau, where as mentioned above it is run by a cheerful family that cares about local produce.
Find out more about MTB Hallstatt and if you don't have your own bikes, it's no problem to borrow them. We'll give you good advice if you head to Hallstatt bike rental.
Route from Hallstatt to Rossalm Gosau
If you are a lover of long walks, you can choose to hike around the beautiful and enchanting nature. We start with a ride on the Salzbergbahn Hallstatt cable car, which will give you an amazing panorama that you will remember for a lifetime. We stay on the Salzkammergut Trail. At the beginning you pass the chapel, the Hallstatt salt mine and many other sights. You pass through the town of Salzberg. At the first signpost where the trail also leads: Hallstatt Pllasen you keep on the Roßalm – Salzberg, Salzkammergut Trail. At the last signpost we take the trail Roßalm Salzberg where you can admire the Strähnhag and after a while you will be at the finish.
Discover the surroundings of Rossalm Gosau
1. Plassen
From the Rossalm Gosau take the Plassen – alter Wanderweg trail and at the signpost turn onto the Wanderweg Plasse and then onto the Plassen trail and towards the end the Hallstatt – Plassen trail leads to the Plassen mountain. It is a hike where you can relax, switch off your head and just enjoy the nature and then the beautiful Plassen mountain.
2. Schneidkogel
You will follow the same route as to Mount Plassen and follow the Hallstatt – Plassen trail and then take the Wanderweg Plassen trail to reach the majestic Schneidkogel.
Summary
Here you can enjoy the beautiful little things that are around you and switch off from the everyday hustle and bustle. You will feel every breath and exhale and all stress will disappear.