Salzburg to Hallstatt day trip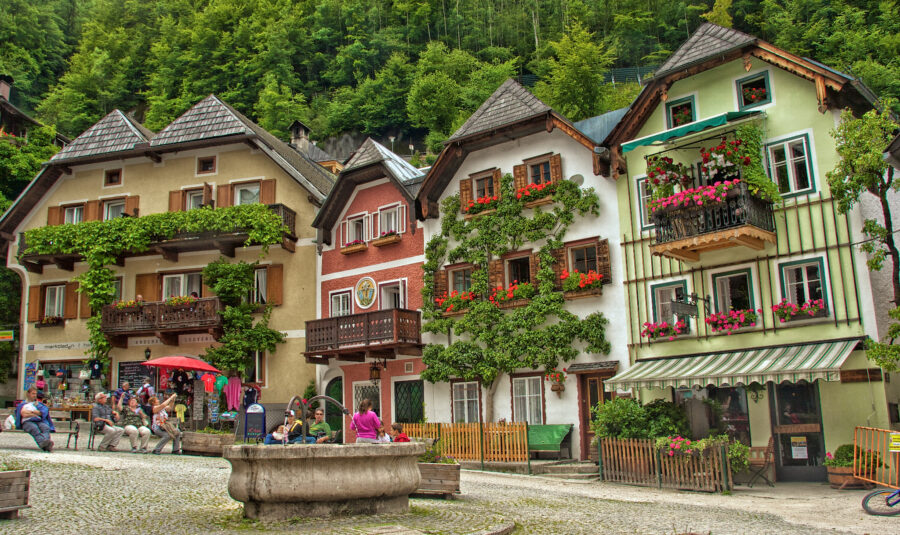 Salzburg to Hallstatt – when you say Austria, many of us think of beautiful nature, mountains, great cuisine and admirable architecture. Much of this can be found in Salzburg. However, if you are in the city of Mozart, or are planning a trip there, Hallstatt should definitely not be missed.
If you're worried about the complexity of planning, you don't have to be. This article gives you all the information you need to organize a trip to Europe's most beautiful town. A visit to Hallstatt is an absolute "must see" if you are in or around Salzburg.
Can you do a day trip from Salzburg to Hallstatt?
You even should! Hallstatt is a picturesque village situated between a large lake and the Dachstein massif. The entire complex certainly belongs on the UNESCO list. Salzburg is about 72 km from Hallstatt and there are several ways to get there.
Although there are a lot of things to do in Hallstatt, the most important places can be reached in a day trip.
How do I get to from Salzburg to Hallstatt?
Due to the good distance between Salzburg and Hallstatt, there are several ways to get to one of the most beautiful places in the world. You can choose according to your preferences.
1. From Salzburg to Hallstatt by car
One way is by car. If you choose to go by car, then expect about an 1hr15min journey. If you choose this option, we recommend that you think about where you park in advance. Finding a parking space in Hallstatt in high season is quite a challenge.
If you have arrived by plane, you can rent a car directly at the airport or in the city center.  You can book a car in advance using specialized apps or websites. To rent a car, you will need a passport, an international driving license and a bank card to pay for the service.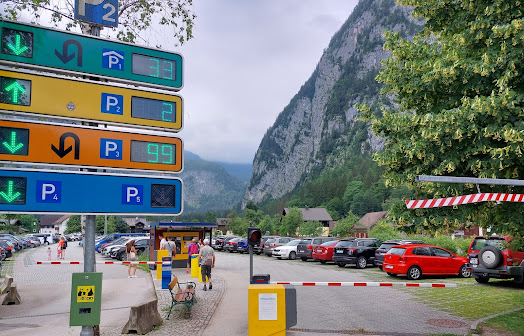 From Salzburg to Hallstatt by train
The second option is to travel by train and then by ferry. And why this combination? Hallstatt railway station is located on the opposite side of the lake, so when you arrive at the station you will also have to change to the ferry to get directly to the picturesque village.
This journey will take you about 2,5 hours. However, you will experience a journey with beautiful landscapes, and you will definitely take away a great experience from the ferry ride.
When travelling by train, you must first get to Attnang-Puchheim station from Salzburg (duration approx. 45 minutes), then change to the train from Attnang-Puchheim to Hallstatt train station (duration 1.5 hours)
Tickets and specific departure times can be arranged online directly on the local websites. Useful information: the last ferry departs daily at 18:15 to meet the last train at 18:32. Austrian Railways (ÖBB) trains run on time, so you can easily plan your time in Hallstatt. A return train journey on the Hallstatt-Salzburg line costs an adult just over €30.
As soon as you get off the train, you will come across the Hallstatt Bahnhaf ferry stop and take the ferry to the centre to the Hallstatt called Hallstatt Market square.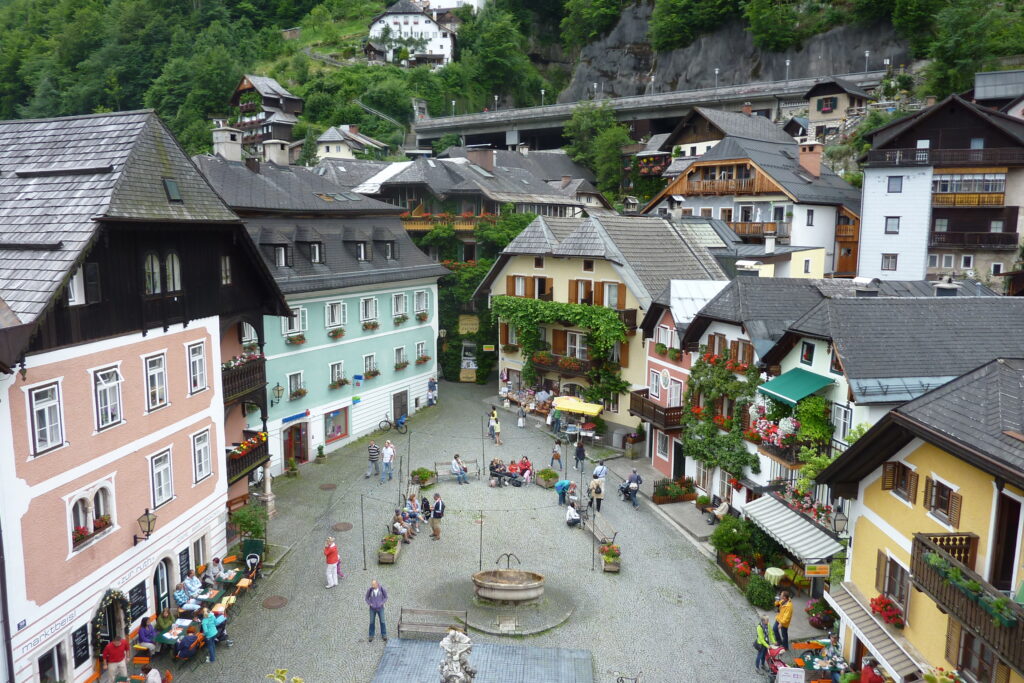 3. From Salzburg to Hallstatt by bus
The third way to get from Salzburg to Hallstatt is by bus. From Salzburg you must take bus 150 to the stop Bad Ischl. If you are planning to return to Salzburg the same day, we recommend that you arrange an early departure to make the most of your time in Hallstatt.
You can secure your tickets in advance or from the driver on the bus. The journey takes approximately 90 minutes. Bus departures depend on the day of the week, which is usually 5:55am Monday to Saturday, but not until 8:15am on Sundays.
In Bad Ischl you will change to bus line 542 at the bus stop Hallstatt Gosaumühle. At the bus station in Bad Ischl you will have approximately 20 minutes to change buses. The ride to the Hallstatt Gosaumühle stop takes about half an hour.
Unfortunately, this bus does not go to the centre of Hallstatt. However, don't worry about the transfer, you will be far from the only ones changing buses in Hallstatt Gosaumühle.
The third bus is number 543, it's the line from Hallstatt Gosaumühle to Hallstatt Lahn. After a journey of about 10 minutes, you will finally see the shore of Lake Hallstatt. The bus stops at the main bus stop Hallstatt Lahn (Seelände). From here you can go to any activity in Hallstatt.
4. Salzburg to Hallstatt tour
Round-trip bus tour/transportation between Salzburg and Hallstatt with tour guide on the bus. In our opinion this option is not ideal, because you have only 2-3 hours in Hallstatt and you will not be able to see much. Tour itself costs about 70-80Eur/person. You have several companies providing this trip.
The best things to do in Hallstatt in one day
Hallstatt offers many activities and there is something for everyone. Hallstatt has many attributes according to the activities you find here. We believe that you really want to catch the greatest gems in one day, so we'll mention below what not to miss.
Salt Mine Hallstatt
Not into mines? Give this one a chance! This is one of the most beautiful places in the entire Salzkammergut, a UNESCO World Heritage Site. Its 7,000-year-old history has made it the oldest salt mine in the world – Hallstatt. The atmosphere here will absolutely absorb you – the mine offers tours, you can feel the roughly hewn rock walls for yourself and take a ride down the 64-metre-long mining slide.
The mine also boasts the oldest wooden staircase in Europe, which people used 2,800 years ago to carry white gold down the mountain.
Skywalk Hallstatt
If you're not afraid of heights and like to look around, this is the right view for you. The viewpoint is a UNESCO World Heritage Site and it's no wonder. Located 350 metres from the rooftops of the Hallstatt houses, the Hallstatt landscape will spread out before you in all its beauty. The attraction is directly below the former defence tower on the Hallstatt Salt Mountain.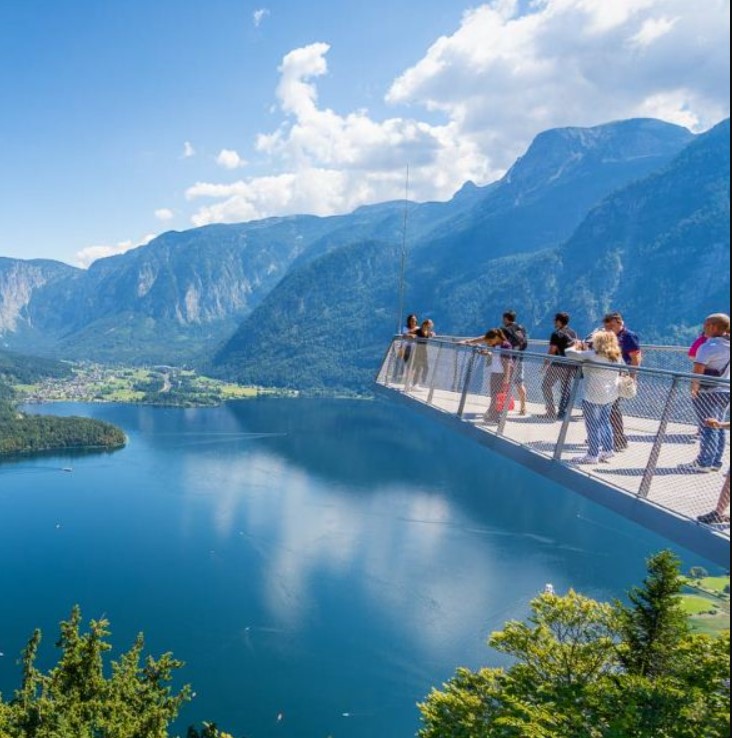 Highly recommend. A must place to visit when you travel to Austria. From here, you can see an amazing view of Hallstatt. We will come back in Spring to see another perspective of this village.
A place with a beautiful view, but thanks to the elevator there are annoyingly many people here even in the late afternoon to take turns hunting for selfies, etc. I wonder what percentage of visitors come here on foot to take photos
Hallstatt Market Square
Casual tourists or admirers of architectural treasures will appreciate a stroll through the charming streets. Hallstatt has a wonderful historic centre, with the Marktplatz as its centrepiece, from which you can stroll to the Evangelische Pfarrkirche, which dominates most panoramic photos of the area.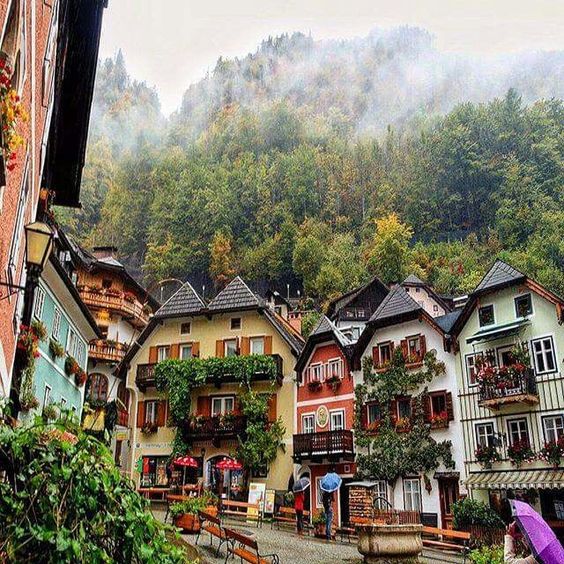 Lake Hallstatt
Of course, you should not miss one of the greatest jewels and that is Lake Hallstatt. Lake Hallstatt is one of the most beautiful and famous lakes in the world. It is probably not surprising that it is a UNESCO World Heritage Site. Around the lake there are many routes that you can walk and admire the beauty of nature.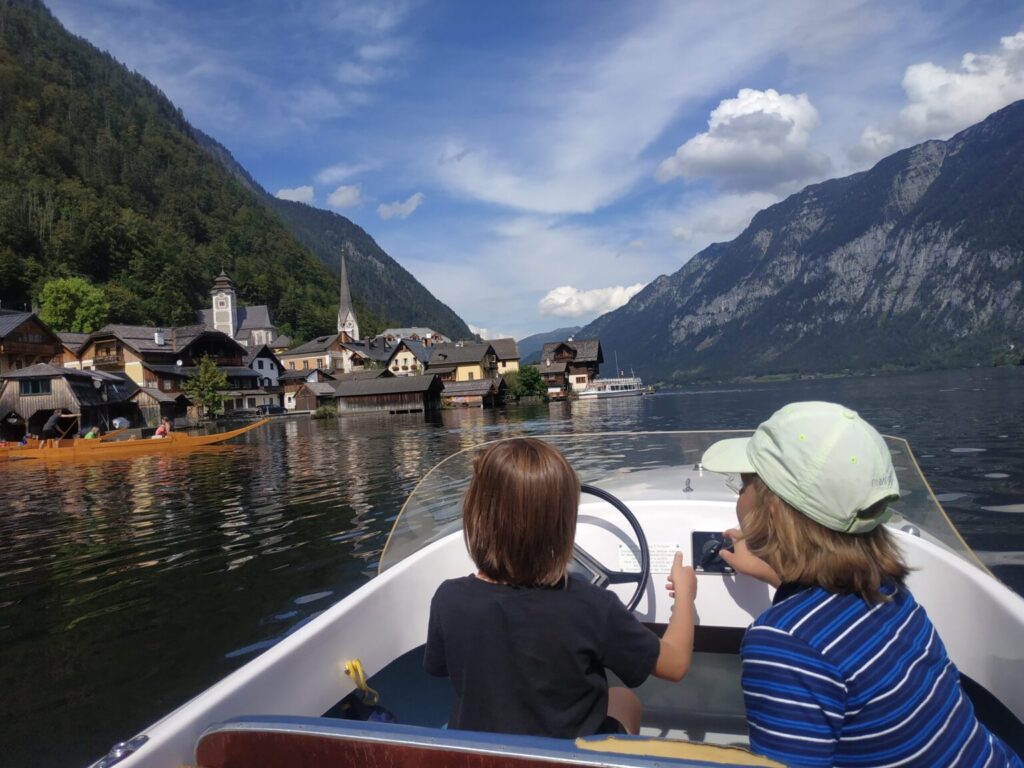 Make your own postcard!
And if you're craving a beautiful photo with the lake and town in the background, we recommend heading to the perfect Hallstatt viewpoint for these photos. You'll be sure to impress social media with the photos afterwards!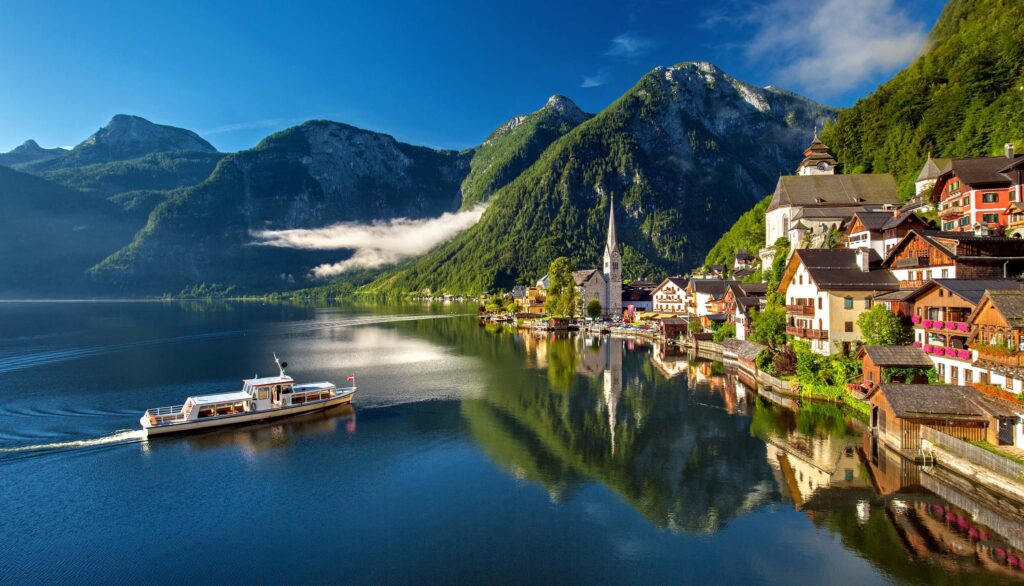 Is a day trip from Salzburg to Hallstatt worth it?
Absolutely yes! If you have a free day and are in the Salzburg area, we recommend taking advantage of it and going to Hallstatt. But you don't have to worry about having fun anymore, there's so much to see in Hallstatt that you might consider staying longer. And if you're not sure how to plan your day, you can take inspiration from our Hallstatt itinerary!