Dormio Resort Obertraun – a perfect place to stay during holiday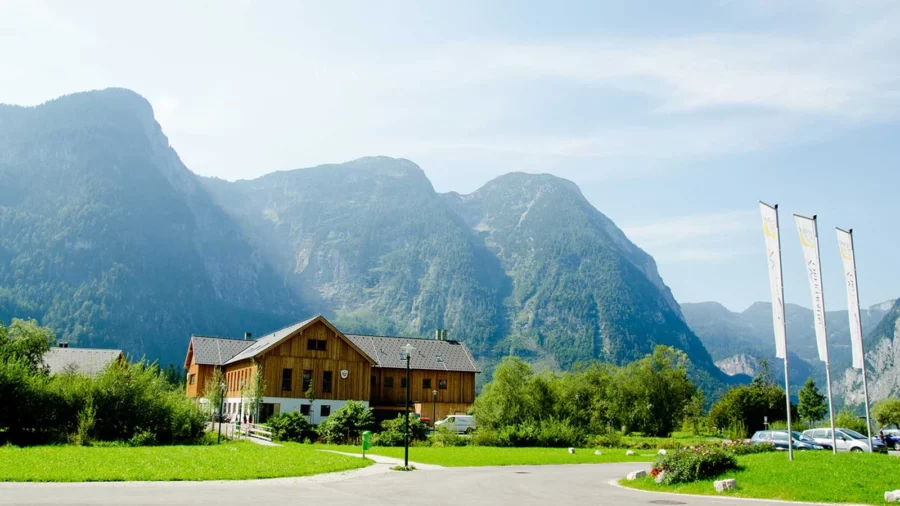 Dormio Resort Obertraun is a wonderful holiday resort located in the beautiful valley, surrounded by Austrian Alps, southeast of Salzburg. The city of Obertraun is situated in the breathtaking natural landscape near the Lake Hallstatt and the Dachstein mountain range, which is a part of the UNESCO World Heritage Site… So you should experience this beauty with your own eyes!
If you are planning your vacation near this city or somewhere around (in Hallstatt for example), you should definitely consider staying at this luxury resort! You won´t regret it!
Dormio Resort Obertraun – description
Dormio resorts are an extensive network of accommodation facilities (hotels, resorts), which you may found in many more countries across Europe. In particular, you can visit this type of resort as well in the Netherlands, Germany, France or Spain.
As has been said before, Dormio Resort Obertraun is located in the town of Obertraun, only 300 meters from Lake Hallstatt and surrounded by magnificient mountains.
Address: Obertraun 302, Obertraun 4831 Austria
E-mail: reservations@dormio.eu
Phone number: +31 (0)85 013 40 40
Whether you are looking for a holiday home for your entire family, a cosy apartment just for two or a welcoming place to stay for you and your frineds, Dormio Resort Obertraun is a right choice for everyone! The resort offers a variety of accommodation options, so I'm sure you'll find a place to stay that suits you perfectly.
Accommodation options in Dormio Resort Obertraun
The resort consists of 82 luxurious chalets suited for 2-16 persons. All of them are modern and well-equipped. Some chalets even include a private sauna!
You can park your car free of charge on site and the resort also provides 2 charging stations for electric cars.
Room Altaussee
If you´ll arrive just in two persons, with your girlfriend or boyfriend for example, this room is a perfect choice for you!
2 persons
2 single beds
Bathroom with bath, shower and toilet
TV
Balcony (some rooms only)
Including breakfast in Restaurant Obertraun
Room Altaussee Comfort
If you come in two persons and you would like to cook something good by yourself in the room, then this type of accommodation is suitable for you, which differs from the previous room in that it has a kitchen.
2 persons
2 single beds
TV
Fully equipped kitchen
Bathroom with shower and toilet
Luxury room including breakfast
Apartment Gosausee
This apartments will fit for you perfectly if you´ll come with your family, because it´s suitable for four persons. It also offers a balcony with garden furniture, from where you can enjoy a beautiful view of Lake Hallstatt.
4 persons
2 bedrooms
Flat screen TV
Bathroom with shower, sink, washing machine and a tumble dryer
Fully equipped kitchen
Wood stove in the living room
Chalet Hallstättersee
This semi-detached chalet is ideal for a family of four as the previous apartment. Just if you would like to have more space for you and your loved ones, this chalet would be probably a better option for you.
4 persons
2 bedrooms with TV and private bathroom
Two bathrooms with sunshower, tan while showering
Fully equipped kitchen
Tasteful living room with fireplace, flat screen TV and DVD/CD-player
Balcony with garden furniture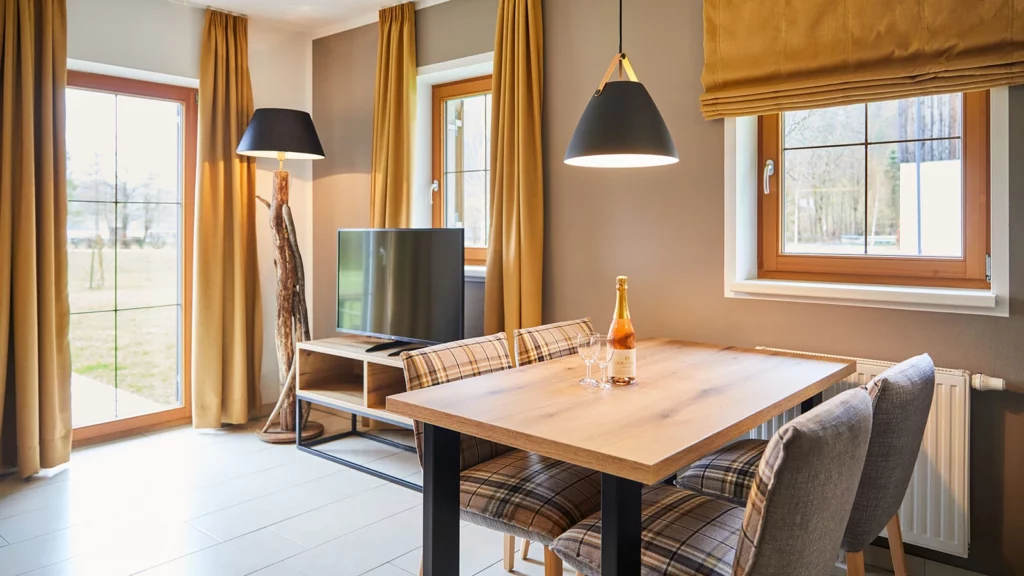 Chalet Attersee
This detached chalet is ideal for a group of 6 persons, so if you are thinking about a vacation with your friends, then you should consider this option of accommodation. You will have your own private space and nobody is gonna disturb you during your holiday….
6 persons
3 bedrooms with a flat screen TV
3 bathrooms with a sunshower
Living room with wood stove and TV
Fully equipped kitchen with coffee machine
Private terrace
Chalet Wolfgangsee
If you will arrive with a group of friends or if you will spend your vacation with your whole family and you are also a fan of wellness, than don´t wait and book this chalet for you, because it is big enough for everybody and it also contains a private sauna!
6 persons
3 bedrooms
Living room with fireplace and flat screen TV with DVD/CD player
Fully equipped kitchen
Bathrooms with bath, shower, washbasin and toilet
Balcony and terrace with garden furniture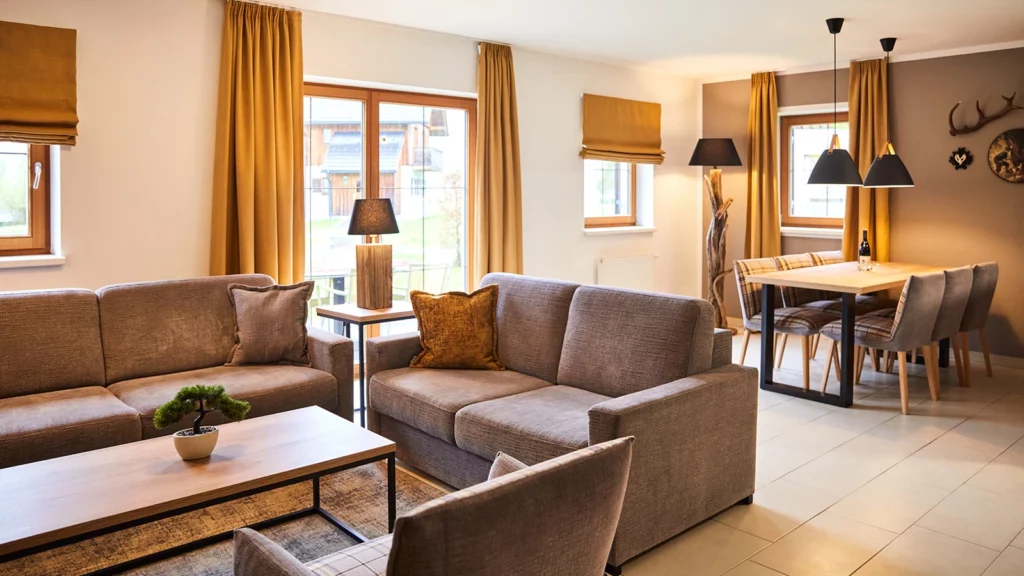 Chalet Traunsee
This type of detached chalet will fit for you, if you´ll arrive in a group of 8 people and need even more accommodation space.
8 persons
4 bedrooms with TV and en suite bathrooms
Living room with wood stove, flat screen TV and DVD/CD-player
Fully equipped kitchen
4 bathrooms with shower, washbasin and toilet
Two balconies and terrace with garden furniture
Private sauna
Chalet Mondsee
This detached chalet is suitable for 10 persons and also includes a private sauna…
5 bedrooms with TV
4 bathrooms
Massive wooden furniture
Living room with fireplace
Fully equipped kitchen
Private sauna
Two balconies and terrace with furniture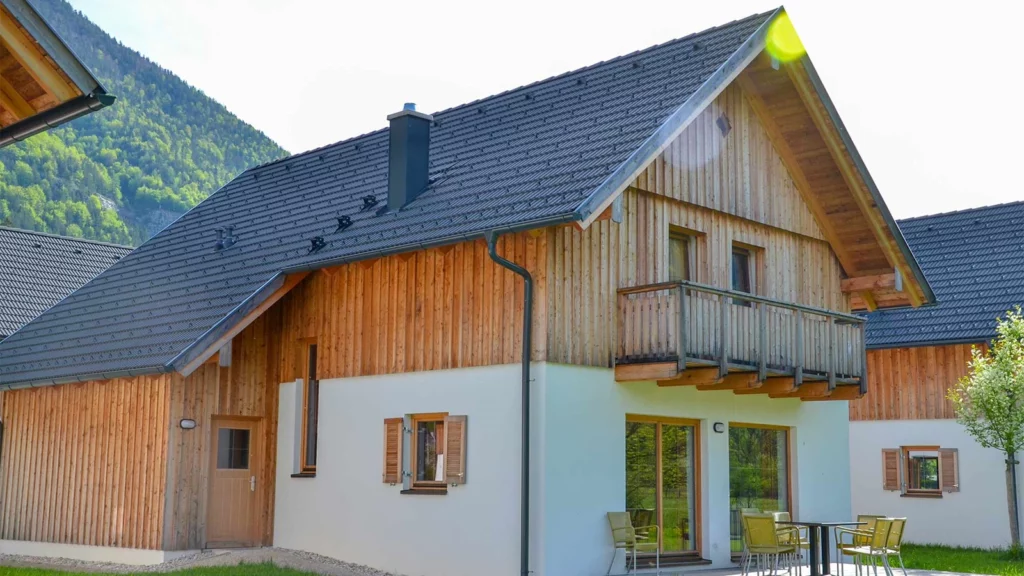 Hotel room
If your plan is to come alone or you will take just one person for a vacation with you, than don´t wait and book one of the hotel rooms! It´s located in the main building, so you will not have to go far to visit all the facilities of the resort, where you can spend a wonderful time….
2 persons
1 bedroom
Kitchen included
Free entrance to the swimming pool and fitness centre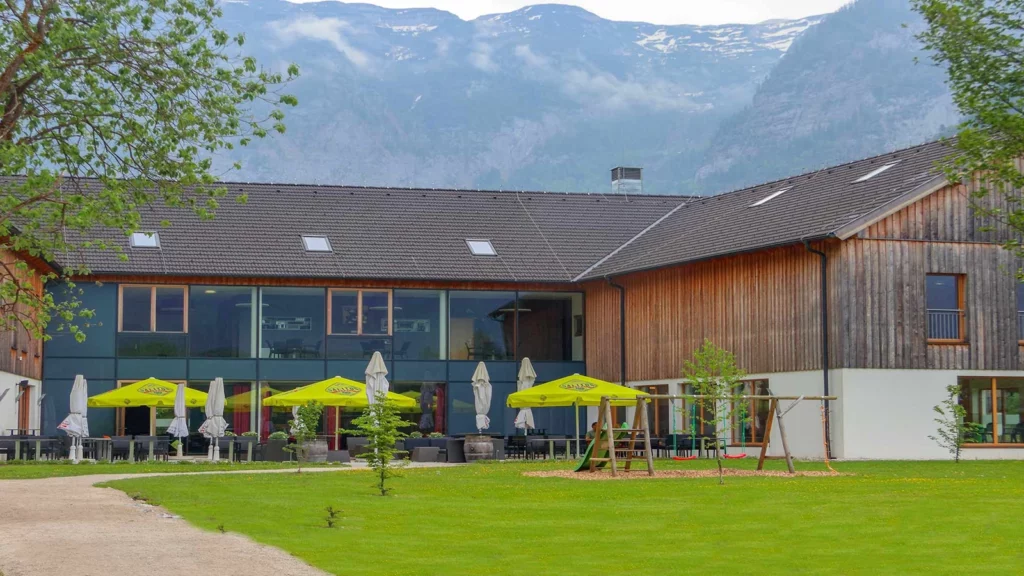 Chalet Grundlsee – Dormio resort Obertraun
This semi-detached chalet is great for a group of 6 persons. You will have more than enough private space and the chalet is luxuriously equipped!
3 bedrooms
Livingroom with a beautifull view, flatscreen tv
Bathroom with bathtub, separate showercabin and toilet
High equipped kitchen
Spacious terrace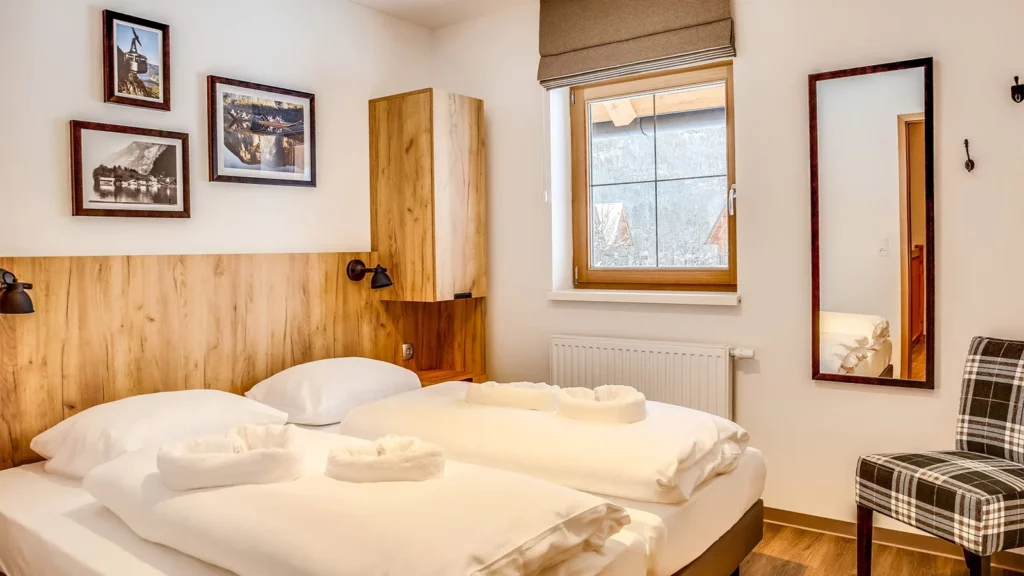 , as well as various facilities such as a wellness center, indoor swimming pool, sauna, and fitness center.has extensive facilities for a wonderful stay in Austria! For old and young, there is enough to do at the resort
You will have a free access to the wifi at the whole resort
Reviews
Pleasant accommodation in cottages practically on the shore of the lake. The room was smaller, but well equipped, clean, perfectly adequate for a few nights. An apartment would be better for a longer stay. The beds are very soft. There is a small shop in the area and also a swimming pool, we used it in the evening after the hike and it was nice. The breakfasts were great with a wide selection and we were generally very satisfied with the helpful and friendly staff. In May 2022, the restaurant directly in the resort did not work, fortunately two more are right next door. The complex can sometimes be noisy when larger apartments occupy areas with barbecues and children. But the start of the night's quiet at 10:00 PM works reliably.
A wonderful place between the Hallstatt mountains at Lake Hallstat. Enjoyment for young and old, the Obertraun resort perfect in hotel-type cabins everything. Each bedroom has its own bathroom, WC, towels, all equipment. Kitchen also everything. Microwave, stove, refrigerator, coffee machines of 3 different types. Perfect bedrooms with TVs on the ground floor even a small sauna. I highly recommend this resort especially for a larger family. Everything for children too. There is also a swimming pool for adults and children.
Beautiful quiet environment, beautiful surroundings with the possibility of many trips around the area, the area is clean as well as the lake and the adjacent beach Obertraun. The house is cozy but spacious. The complex also includes a swimming pool and a gym – both are free and the gym is very well equipped. The only thing that is probably not absolutely perfect is the restaurant, I don't mean that it is not good, just that I have already experienced better. However, this will definitely make up for the excellent buffet breakfasts. Overall I am very satisfied
Activities around Dormio Resort Obertraun
There are plenty of outdoor activities you can experience around the Dormio Resort Obertraun… Whether you come in summer or winter, you will not get bored here anyway.
You may explore the area around Lake Hallstatt by bicycle or you can take advantage of the opportunities offered by the lake itself, for example boating or many other water sports.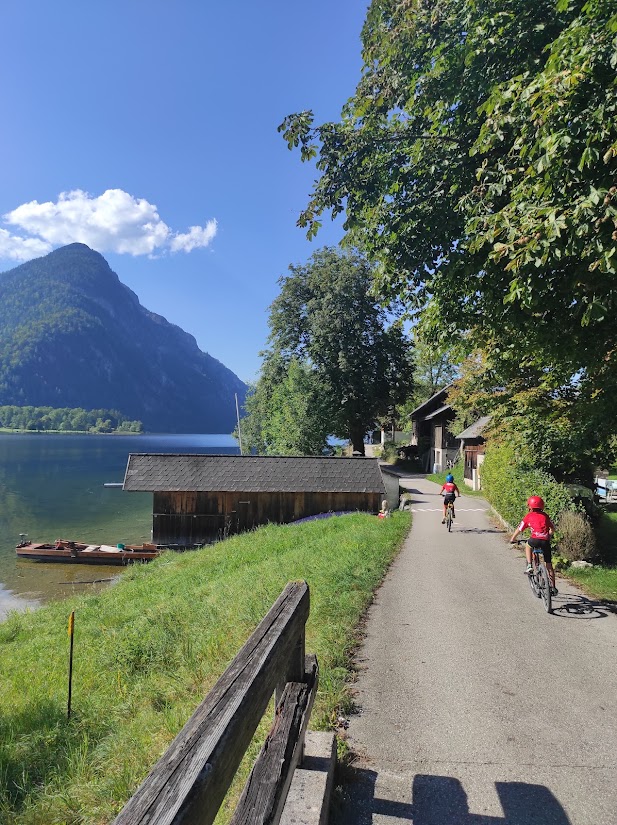 Dormio Resort Obertraun ski
If you come during the winter, the best outdoor activity for you is definitely skiing in the Dachstein West ski resort! The closest ski bus station is situated right in front of Dormio Resort Obertraun. Then you can comfortably get up by Dachstein-Krippenstein panorama cable car, which starts directly in the city of Obertraun. And you can enjoy an unforgettable skiing experience. You also have a choice of dozens of kilometres of cross-country ski runs, snowshoeiing, skating or curling in the valley. The Dachstein massif also offers many possibilities for ski treks. It's a ski region with much to offer, where both experienced skiers and families with children will feel like at home.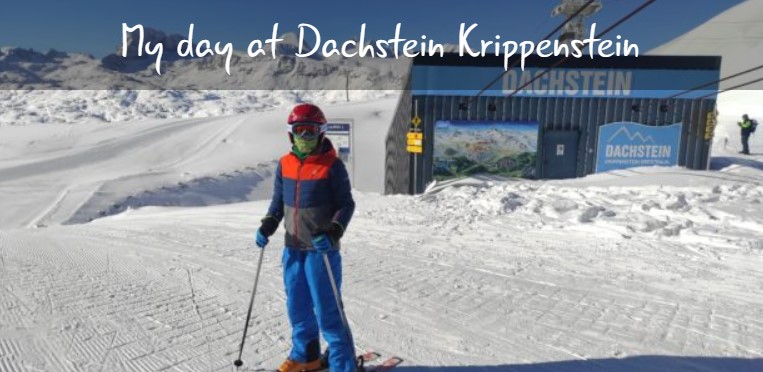 If you prefer walking tours, then you will find great tips here as well. You can visit Dachstein Ice Cave World, Dachstein Shark, viewing platform 5 Fingers and so much more in the surrounding area.