Braugasthof Lobisser – hotel and restaurant in Hallstatt, Austria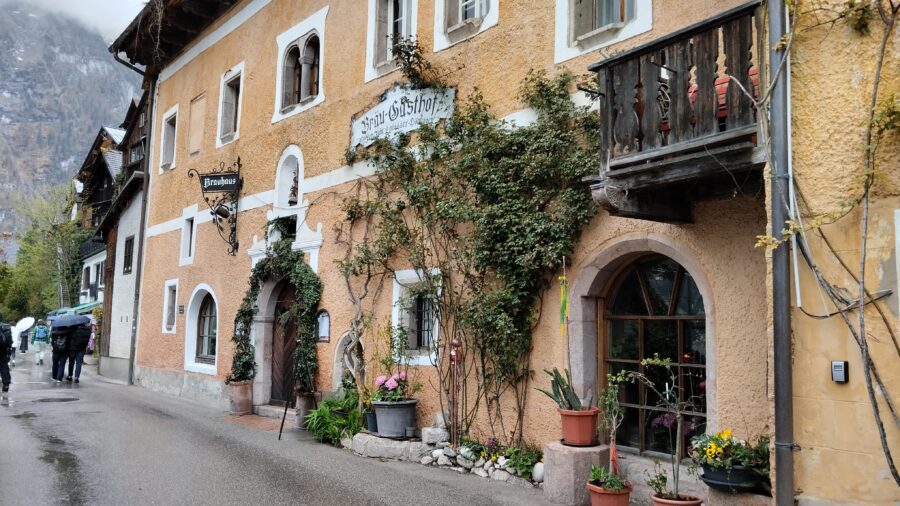 Discover the timeless charm of Braugasthof Lobisser in Hallstatt, a historic hotel with lake terrace restaurant that has been home to the Lobisser-Höplinger family for over 150 years. The first records of the inn date back to 1472, and Emperor Maximilian I granted the house brewing rights in 1504, making it a significant part of Hallstatt's history. Step into the Gothic architecture of the building and be enchanted by its genuine ambiance, beautifully renovated to offer guests the comfort and convenience of modern times.
Braugasthof Lobisser – hotel
Stay in one of the seven cosy and romantic guest rooms, each with its own fantastic view of the lake. At Bräugasthof Lobisser, tradition and gastronomy go hand in hand. Experience the warm and welcoming atmosphere of a traditional house at Bräugasthof, where you can indulge in a romantic getaway any time of year. With seven cozy guest rooms to choose from, almost all of which offer breathtaking views of Lake Hallstatt from a private balcony, you will feel truly pampered. Each room includes a shower, toilet, satellite TV, and Wi-Fi to ensure a comfortable stay. Wake up to the unique morning moods, the serene view of Krippenstein, and the deep green lake, or enjoy atmospheric evenings in the comfort of your room.
Prices:
SINGLE ROOM with shower & toilet, satellite TV and lake view (without balcony) including breakfast buffet and local tax from
EURO 95, – (for 1 person)
DOUBLE ROOM with shower & toilet, satellite TV and lake view (some with balcony) including breakfast buffet and local tax from
EURO 165, – (for 2 people)
TRIPLE ROOM with shower & toilet, satellite TV, balcony & lake view including breakfast buffet and local tax from
EURO 205, – (for 3 people)
FOUR-BED ROOM with shower & toilet, satellite TV, balcony & lake view including breakfast buffet and local tax from
EURO 245.- (for 4 people)
How do I book a room in hotel?
There are different ways to book a room at Bräugasthof Lobisser Hallstatt. You can:
Braugasthof Lobisser – restaurant
The Baugasthof Lobisser has been serving local delicacies since its establishment, and the kitchen and cellar still offer guests a taste of Hallstatt's finest cuisine. Enjoy traditional specialties while taking in the stunning view of Lake Hallstatt. Come experience the magic of Braugasthof Lobisser, where history, comfort, and gastronomy come together to create an unforgettable experience.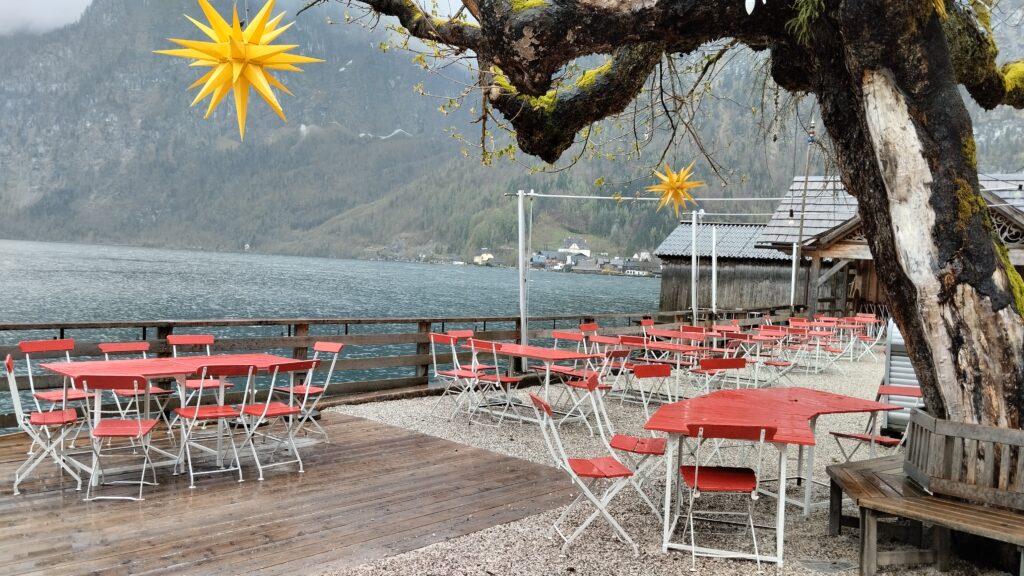 They offer authentic Austrian cuisine with a modern twist. Skilled chefs hail from Austria, Slovakia, Hungary, and Bosnia, bringing with them a diverse range of regional culinary expertise. At the Bräuhaus, they source fresh ingredients from local sources, including Zauner butcher, Ernst Grabmayer's vegetables, Höplinger fish from St. Wolfgang, and Stiegl brewery Salzburg's beer. Indulge in the selection of Austrian wines, directly from winemakers in Wachau, Styria, Burgenland, and Lower Austria, as well as the Goiserer 'Schnapps.' Chefs combine their knowledge of traditional dishes with innovative ideas, culminating in a unique and unforgettable dining experience.
Reviews
Customers have left rave reviews for both the hotel and the restaurant. Many guests praise the friendly and helpful staff, while others rave about the delicious food and stunning views. If you're looking for other dining options in Hallstatt, there are plenty of other restaurants and cafes to choose from.
One of the best stays I've ever experienced! A cozy place that offers an incredible view over the lake of Hallstatt! The staff is very attentive and friendly! The rooms are simple, in a traditional style, but offer all the necessary amenities for a pleasant stay. Breakfast is simple but sufficient.
Perfectly located inn for a short trip. Had a nice room with a great view of the lake and the beautiful mountain panorama. Friendly service, a good dinner and a great breakfast rounded off the stay perfectly! Highly recommended!
A truly authentic neighborhood. If you don't know what the Juchee is, you could look for the room for a long time 🙂 The room is entirely in wood, the view is phenomenal. The room is not barrier-free at all, with a leg in plaster and crutches you would have to be very sporty to be able to use it, in a wheelchair it would be impossible to climb the steep stairs. Please note this when booking. The breakfast was excellent and the staff exceptionally friendly.
Various activities available to guests
There are various activities available to guests of Braugasthof Lobisser Hallstatt near the hotel or in the town of Hallstatt. Some of them are:
There are plenty of things to see and do in this charming village. You can also check out the Bone House, a unique attraction featuring decorated skulls. For other visitors, the World Heritage Skywalk offers stunning views of Lake Hallstatt and the surrounding mountains. You can also visit the Waldbachstrub waterfall. In the summer months, the beaches and bathing island of Lake Hallstatt are popular spots for swimming and water sports. In the winter, the Christmas markets and Krampus run are not to be missed
How to get to Braugasthof Lobisser?
To get to Braugasthof Lobisser Hallstatt, you need to follow these steps:
Park your car at the public parking lot P1 Parking Hallstatt. and from there take your luggage with the Hallstatt shuttle bus to hotels front door.
Alternatively, you can also take the train to Hallstatt train station and then take the ferry boat across the lake to Hallstatt, which runs every hour from 8:00 am to 6:00 pm and costs 3 euros per person one way. From boat station it is only 3-4 walking minutes distance to the Bräugasthof
If you arrive by bus, it is a 5 minute walk from the bus terminal to the Braugasthof Lobisser.
In all scenarios you can walk along the lakeside promenade for about 5-10 minutes until you reach the hotel, which is located on Seestrasse 120.
Please note that Hallstatt is a car-free town and you cannot drive or park your car in the town center. You can only access the hotel by foot or by boat..
Conclusion to your visit of Hallstatt's Bräugasthof Lobisser
Are you looking for a charming and historic place to stay and dine in Hallstatt? Look no further than Bräugasthof Lobisser, a traditional hotel located in the heart of this picturesque Austrian village. It's not just the accommodation that make Bräugasthof Lobisser so special. The hotel's lake terrace restaurant is a must-visit for anyone visiting Hallstatt. Here, you can enjoy delicious Austrian cuisine while taking in breathtaking views of Lake Hallstatt. The menu at Bräugasthof Lobisser features a range of traditional Austrian dishes, including schnitzel, goulash, and dumplings. Don't miss the restaurant's signature dish, the Lobisser Bräu pork knuckle. This hearty and delicious meal is perfect for a chilly evening in Hallstatt.
All in all, Braugasthof Lobisser is the perfect base for exploring all that Hallstatt has to offer. Whether you're looking for a cozy place to stay or a delicious meal with stunning views, this historic hotel has it all.
Other hotels nearby Braugasthof Lobisser
There are other hotels near Braugasthof Lobisser in Hallstatt that you can choose from, depending on your preferences and budget. Some of them are:
Heritage Hotel Hallstatt, a hotel that consists of three historic buildings on the lakefront, offering modern rooms with lake or mountain views, free WiFi, and a restaurant.
Seehotel Grüner Baum, a hotel that occupies a former monastery on the market square, featuring elegant rooms with lake views, free WiFi, and a restaurant with a lakeside terrace.
Boutique Hotel Strand, a hotel that is located on the shore of the lake, offering cozy rooms with lake or mountain views, free WiFi, and a breakfast buffet.
Hotel Simony, a hotel that is situated next to the church on the lakefront, providing comfortable rooms with lake or mountain views, free WiFi, and a restaurant with a garden terrace.
You can also stay in Obertraun, which is a nearby town across the lake from Hallstatt. Some of the options there are:
Dormio Resort Obertraun, a 4-star resort that offers spacious apartments and chalets with fully equipped kitchens, free WiFi, and a wellness area with an indoor pool.
Hostel Jutel Obertraun, a budget-friendly hostel that provides simple rooms and dormitories with shared bathrooms, free WiFi, and a communal kitchen.